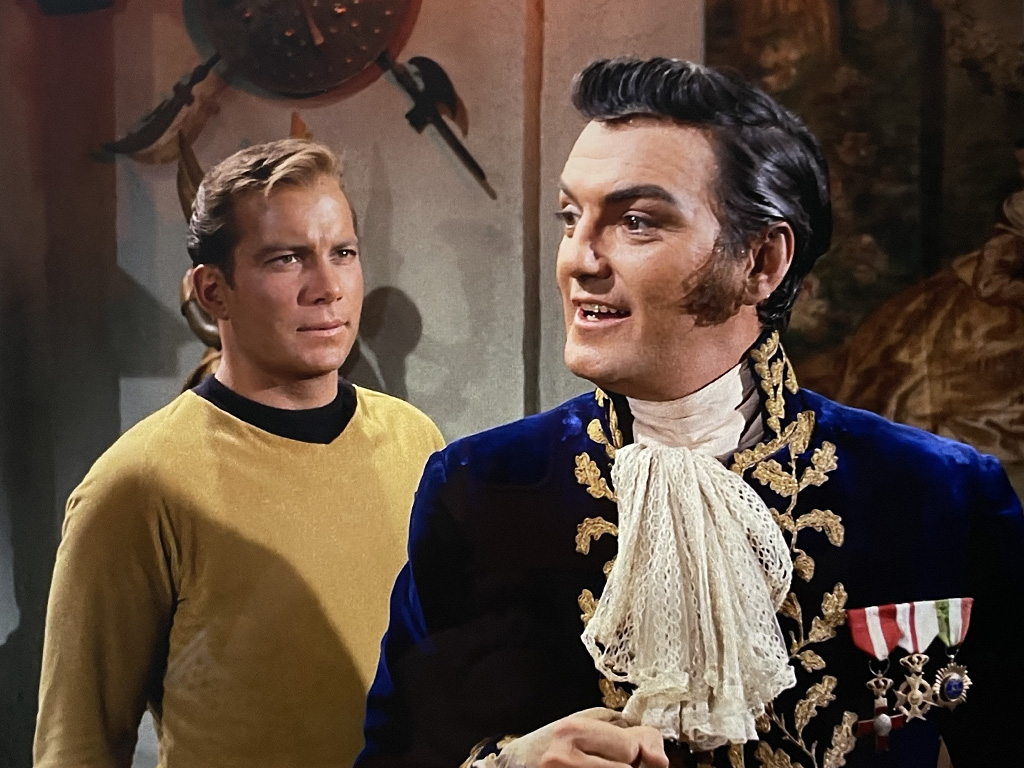 There are so many omnipotent aliens in Star Trek it's hard even for a Trekker like myself to keep track of them all. One of the very first such super-beings Kirk and company encounter is Trelane of the planet Gothos. Trelane snatches Sulu and Captain Kirk from the bridge of the Enterprise to lure the crew to the planet and pick their brains about humanity's barbaric nature. Trelane's been observing Earth for some time but due to general relativity, he's been spying on historical events some 900 years in the past.
Trelane is played with gleeful delight by actor William Campbell who would go on to play the Klingon Captain Koloth in the iconic original series episode 'The Trouble With Tribbles'. Years later Campbell reprised his role as Koloth in Deep Space Nine's second season episode 'Blood Oath', becoming one of the few actors to portray the same character on both the original series and on one of the spin-off series. According Memory Alpha, Campbell described his role on DS9's 'Blood Oath' as his most difficult acting job, but one he would have liked to have had the chance to play again.
Watching Trelane prance around, tormenting the crew and ultimately even putting Captain Kirk on trial, one can't help think of yet another mischievous being that tortured the crew of a different Starship Enterprise, namely Q.
Trelane might easily be mistaken for the younger cousin of Q, played brilliantly in Star Trek: The Next Generation by John Delancie. All the Q hallmarks are on display – limitless power, poor impulse control, even cosmic temper tantrums! Delancie even theorized in an interview that Gene Roddenberry drew inspiration from himself and Trelane when he created Q.
The apparent similarities between the characters draw to a close at the very end of the episode. Trelane has Kirk trapped and is about run our dear Captain through when we suddenly hear the voices his "parents" calling out to him. It turns out Trelane is just a mischievous boy who's tortured his playthings a little too much and must be punished. Time to come in for dinner, Trelane! They apologize to Captain Kirk and send the Enterprise on its merry way.
Our one perfect shot comes as Kirk tries to size the alien up before him and decide just what he's dealing with in the flamboyant 'Squire of Gothos'.
Next up is one of my all-time favorite episodes of Star Trek, the iconic 'Arena' where Kirk fights for his life (and gets his tunic torn yet again) battling a walking, talking, hissing lizard.
Check out the entire series of perfect Star Trek shots to date.