One Perfect Shot: TOS 'What Are Little Girls Made Of?'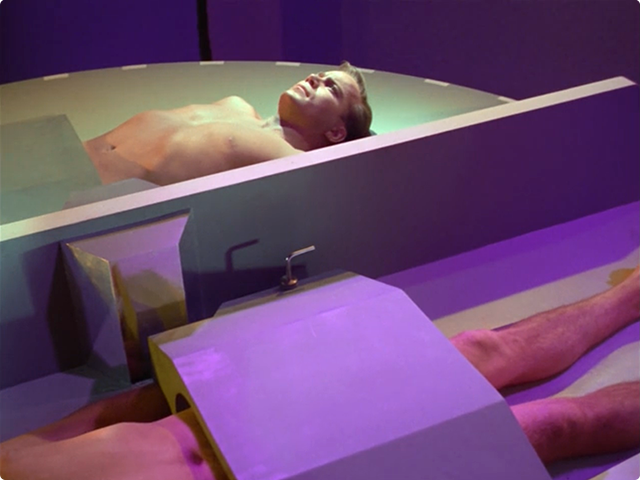 The crew of the Enterprise goes in search of Roger Korby, a famous scientist missing for over five years and gets much more than they bargained for in season one's 'What Are Little Girls Made Of?'. Korby has chanced upon an extinct civilization that long ago learned how to transfer human consciousness into the body of androids. He intends to bring this technology to the galaxy, by hook or by crook, and tries to convince Captain Kirk and his former fiancée, Nurse Christine Chapel of the importance of his discoveries with a personal demonstration.
Our one perfect shot for 'Little Girls…" takes place as Korby forcefully straps Kirk into the android duplication machine, a robotic blank on one side, the naked captain on the other. The device spins up to speed and when it winds back down an exact replica of the Captain appears before Christine, one so perfect even she can't tell them apart! I love how the physical prop of the duplication machine bisects the screen for the camera and creates a mirror image. I'm sure its design made the process of optical composting easier for the special effects team, but beyond that it just looks plain cool. Shatner as Kirk is naked and more vulnerable that we've ever seen him in the series which gives the whole scene a tense, Twilight Zonish vibe.

While I was picking the shot for this episode I was once again struck with the amazing use of color from scene to scene. Taking a cue from the fine folks over at Dribbble.com, I've created a fun color palette based on the hues from the selected shot. It's fascinating to see how the individual colors form a harmonious palette that makes up a typical frame from Trek. I won't be doing this for every post but I think it would be fun to create them for key shots from time to time and get a better sense of the vibrant use of color in the original Star Trek.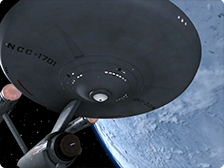 Finally, I felt I just had to post at least one of the incredible re-mastered special effects shots from this episode. I'm taking all of my perfect shots from Netflix streaming and this works great because this is the re-mastered HD version of the series that Paramount released on blu ray a few years back. I'll go into more detail about the fantastic improvements in special effects the team at CBS managed to achieve, but for now, just take a minute and click on this epic shot of the Enterprise. For a Star Trek fan like myself, it's simply stunning.
Next time we visit another exact duplicate, but this time it's an entire planet Earth in 'Miri'.