One Perfect Shot: TOS's 'The Menagerie Pt. I & II'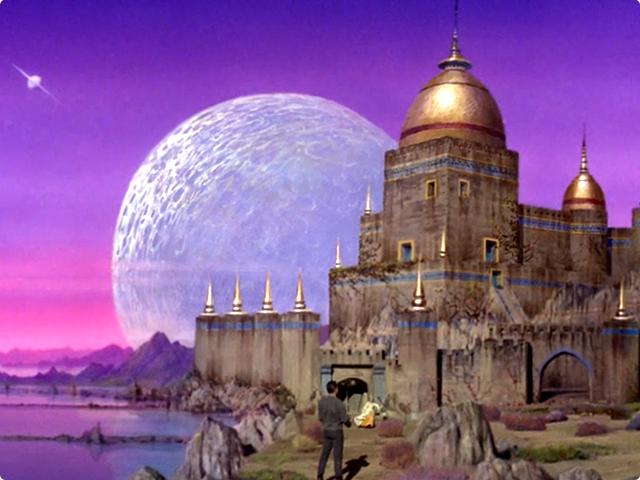 There are a few shots from the original series that fans like myself consider highly iconic. Today's one perfect shot from the two-part episode The Menagerie is one such image. The shot features a medieval-looking castle on the planet of Rigel VII where Captain Pike (in the foreground) is forced to fight a large, hulking Kalar. This wonderful frame features a matte painting by artist Albert Whitlock that was actually improved for the re-mastered version of the original series.
The Menagerie's skillful use of scenes and elements from the original, un-aired Star Trek pilot, The Cage, was Gene Roddenberry's way of taking some of the pressure off the show as the schedule of the original series started to slip from week to week. By creating essentially a "flashback story" with a dramatically shorter script (just 64 pages long, shorter than the scripts for most single-part episodes), Roddenberry was able to give the production and writing teams crucial time to get back on schedule with NBC for episodes currently in production.
The castle would again be re-used in season 3's Requiem for Methuselah as the lavish home of the immortal recluse Mr. Flint. When the re-mastered version of Requiem aired, the original shot from The Cage was replaced by an all-new, CGI version of Flint's home on Holberg 917G.
Next up, Captain Kirk discovers the play's the thing wherein he'll catch The Conscience of the King.