One Perfect Shot: TOS 'The Man Trap'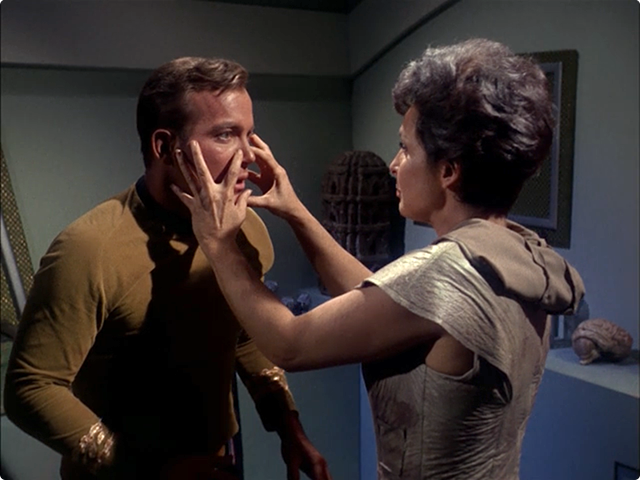 This episode of classic Star Trek always creeped me out as a kid, and with good reason. An alien creature who can assume the appearance of anyone, roaming the halls of the Enterprise in search of its next victim. The original series' 'The Man Trap' oozes with mystery and horror and saves the best bit until the very end when the Nancy Crater, otherwise known as the Salt Vampire, reveals herself to the crew and the audience. Our perfect shot takes place just prior to that bizarre ending as Nancy has tossed Spock aside like a rag doll and has Captain Kirk firmly in her hypnotic gaze.
I always found it a bit of a stretch that Professor Crater could survive for almost two years alone on M-113 with Nancy and not get the salt sucked right out of him. Given how many crew members end up dead, you'd think her appetite was almost insatiable. Then again I guess it's kinda like fasting for weeks, once you're surrounded by food after having gone so long with so little, you kinda want to put your big pants on and sail right on into salt-town.
Next up is one of my least-favorite Star Trek episodes – 'Charlie X'. This should be interesting. :-/