One Perfect Shot: TOS 'The Corbomite Maneuver'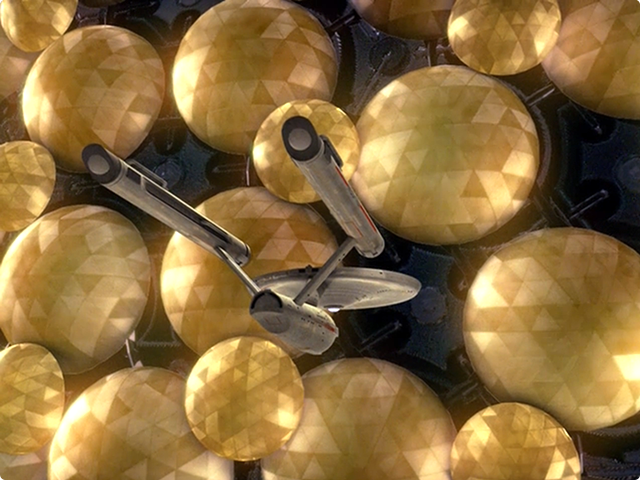 Back in 2006 CBS Home Video began airing the first episodes of Star Trek: The Original Series in their newly re-mastered format. These episodes featured improved CGI effects, HD picture quality and professional sound mixing and have become my absolute favorite examples of how remastering a classic property such as Star Trek, should be approached. Mike Okuda and the team at CBS focused on creating visuals that enhanced the originals; more realistic planets, more detail on the Enterprise and beautifully rendered alien landscapes. The team produced the kinds of shots the original show creators would have used themselves if possible. The remastered original series is a testament to restraint and good visual design and if you want a great example, look no further than 'The Corbomite Maneuver'.
Our one perfect shot features the Enterprise dwarfed by the Fesarius, the flagship of the "First Federation", an immense ship of size and power. Captain Kirk and crew make first contact with Balok, commander of the Fesarius and employ a cunning bluff to avoid certain destruction. As a kid, this shot of the Enterprise and Fesarius always gave me chills and the newly remastered version adds a definite sense of wonder and awe. The detail on the surface of the Fesarius is now geometric in nature and the entire ship seems to pulse with limitless energy. I also love how we can see some of the internal structure of Balok's craft which takes visual cues from geodesic dome designs like EPCOT's Spaceship Earth. The re-mastered special effects in The Corbomite Maneuver are impressive, beautiful and purposeful which adds up to the perfect combination for one perfect shot.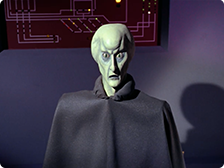 Notably, the other shot I considered for this episode depicts one of the most iconic (and low-tech) aliens from the entire series, the puppet of Balok's alter ego himself. Created by production designer Wah Chang, this supremely alien character could have easily been replaced with a CG version of the primitive puppet, but Okuda and team wisely let him stand in his original form. Chang's original concept sketch for Balok is wonderful and his depiction on the small screen was often featured in the closing credits of Star Trek episodes each week. I almost chose Balok for this episode's one perfect shot, but in the end the beauty and attention to detail of the remastered Fesarius won out.
Next up, Spock kidnaps the Enterprise in a bold attempt to help his former Captain in 'The Menagerie Pt. I & II'