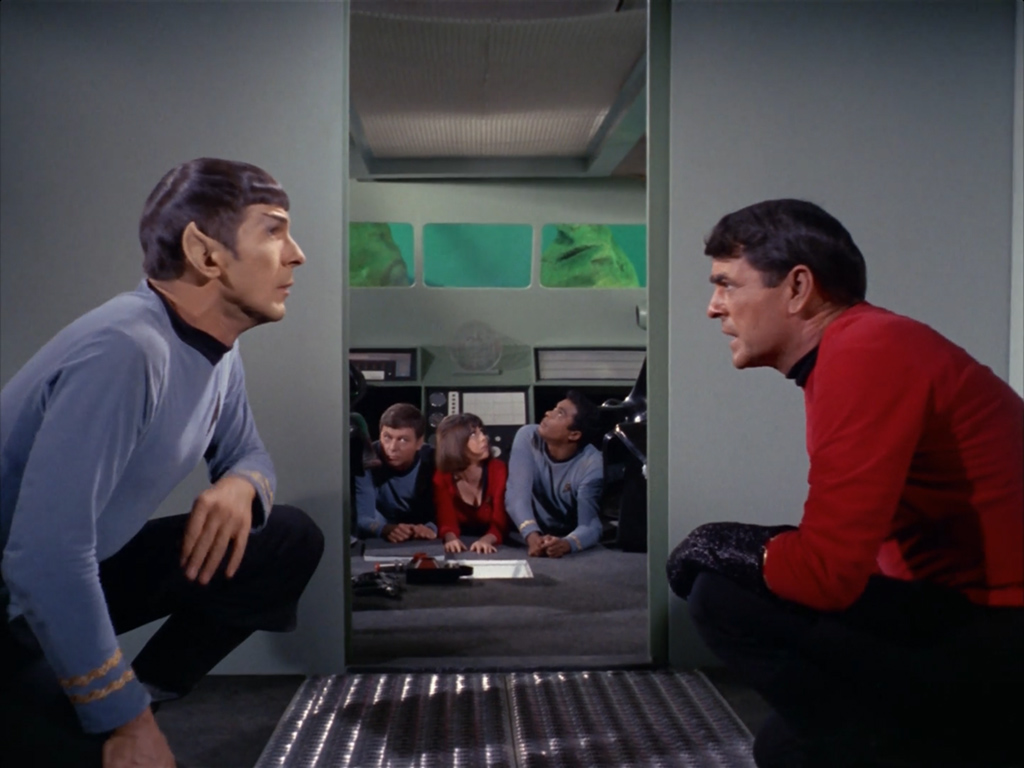 Back in 1967, fans of Star Trek were a little more than a dozen episodes into the new series and were craving to explore stories about one of their favorite new characters – the logical and enigmatic Mr. Spock. They got their wish in The Galileo Seven which thrust Spock into the command chair with his fellow Enterprise crew members in tow.
Kirk sends a shuttlecraft with a crew of seven to explore the Murasaki 312 quasar (re-rendered in spectacular fashion for the 2007 series remastering) when they are pulled off course and crash land on Taurus II, a lone planet at the heart of Murasaki 312. The planet is inhabited by a species of giant, "cave-man"-like humanoids who have a penchant for being just out of focus and throwing huge spears. Spock must solve problem after problem to try and save those under his command, all while dealing with an insubordinate junior office named Lt. Boma and of course the ever-cantackerous Dr. McCoy.
'The Galileo Seven' is notable primarily because it gave Leonard Nimoy center stage for the first time in the original series, something the actor later admitted he struggled with on the set. William Shatner's Captain Kirk is sidelined from the main action, leading the search and rescue from his comfy chair on the bridge of the Enterprise. Meanwhile Spock, McCoy, Scotty and the rest of the shuttle crew are literally fighting for their lives back on Taurus II.
This was one of those episodes that kept me up late at night as a kid. The shadowy monsters, always lurking just out of sight of our heroes pushed all my fearful Bigfoot buttons as a boy. The fact that we never got a clear look at the creature's faces only heightened the effect and was a happy accident during production. Special effects master Wah Chang created the ape-creature makeup to be shown on camera but it was considered by censors to be too grotesque to show in close-ups and so our imaginations are left to run wild.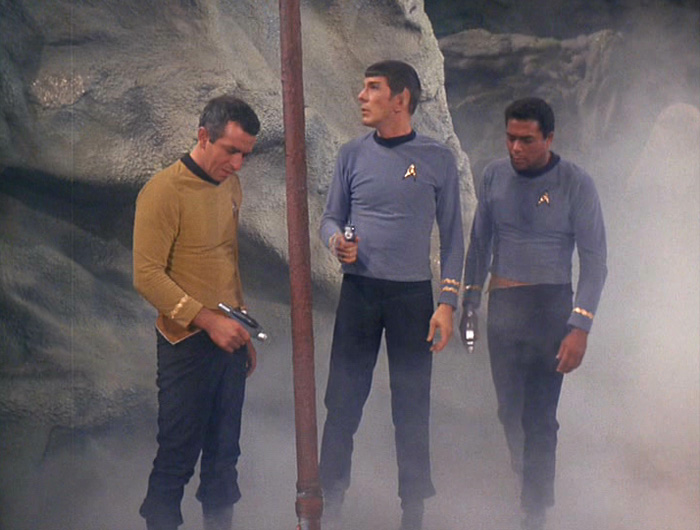 Apparently the censors were working overtime for this episode because the scene where Latimer is killed was considered too gruesome and an additional mist effect was added to obscure the giant spear protruding from his dead body. How times would change.
This episode also marks one of the first occurrences of a VIP coming onboard the Enterprise and seriously mucking things up. Galactic High Commissioner Ferris joins the ranks of Robert Fox from "A Taste of Armageddon', Commodore Matt Decker from 'The Doomsday Machine' and Richard Daystrom from 'The Ultimate Computer' as people who just don't know how to quit when standing on the bridge of the Starship Enterprise.
Our one perfect shot comes as Scotty, McCoy and the surviving crew of the Shuttlecraft Galileo do their very best duck and cover impression while Spock tries to methodically deduce why his Vulcan logic has not only failed to rescue them but also harbor resentment among the crew.
Next up we trade giant monsters and foggy alien planets for something decidedly more budget friendly – the high courtroom drama of "Court Martial".
Check out the entire series of perfect Star Trek shots to date.