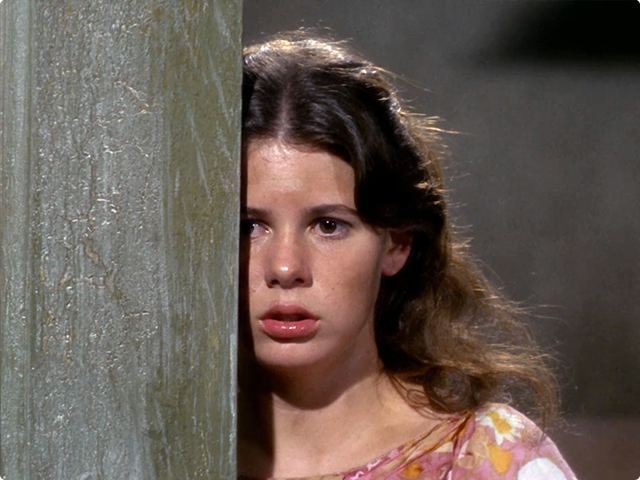 In the entire history of Star Trek, episodes that feature stories centered on children are some of the weaker installments, but season one's 'Miri' is the exception to the rule. After responding to a planetary distress call, the Enterprise landing party contracts a virulent disease that will quickly kill them unless a cure can be found. All of the adults, or "grups" as they are called have died leaving the children or "onlies" behind to fend for themselves. When the children enter puberty and start to become adults, they too contract the disease and eventually die a painful, violent death. The onlies distrust all grups and steal the landing party's communicators, cutting off contact with the Enterprise along with any hope of finding an antidote. Kirk must convince one of the eldest onlies, a girl named Miri, to help him retrieve their communicators if they are to survive.
The episode's one perfect shot is of the title character, Miri, as she spies on Kirk, Rand and the rest of the Enterprise grups desperately trying to isolate the disease that wiped out her entire planet. Miri is played wonderfully by actress Kim Darby who went onto star in a number of other TV and movie rolls including the original True Grit with John Wayne, Better Off Dead and Don't Be Afriad of the Dark. I love this shot of Miri half-hidden behind a doorway as she tries to decide if the adults from another world have come to help or hurt her and her friends.
A sad production note: I learned while researching this episode that after filming was complete, at the friday-night after party for the cast, actress Grace Lee Whitney was sexually assaulted by a member of the show whom she only identifies as "The Executive" in her autobiography The Longest Trek: My Tour of the Galaxy. Horribly, she was fired from Star Trek soon afterwards and didn't appear in the franchise again until the feature films. I shutter to think which Executive could have done this to her, but no matter who it was, it surely is one of the darkest footnotes in Star Trek's long history.
Next time Spock prepares a historic first in the series – the Vulcan mind meld in 'Dagger of the Mind'!