These days click-bait is everywhere. Those oh-so-tempting headlines that promise amazing facts that will blow your mind and keep you in the know. Even the BBC, renowned throughout the world, and thought of as highly as the British royals themselves has fallen for the lure of the click-bait sirens. Yes the British Broadcasting Corporation is now producing content entitled a 'certain amount of reasons we must do something', trying their darndest to feed us "life hacks".
We're living in a world where even the Beeb are trying to capture us with cheap, over-egged headlines. It should come as no surprise that the main culprits lie with the likes of The Daily Mail and Buzzfeed however.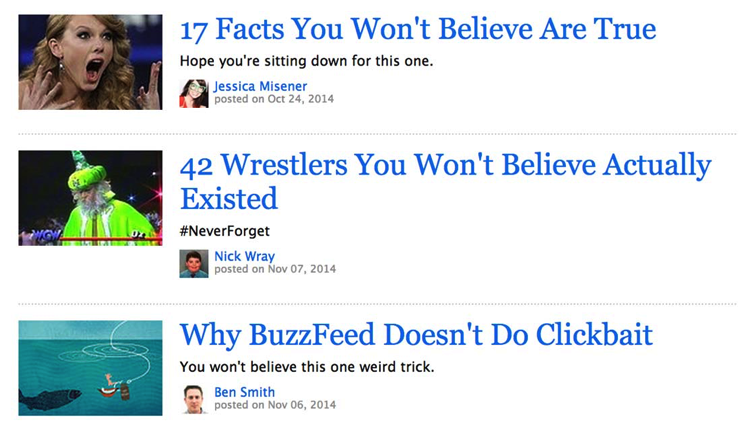 You can hardly miss it, and one brand who has taken a stand is Ladbrokes Bingo. They've created a clever answer to click-bait with the Lingo Bingo generator to poke fun at the ridiculously over-the-top posts that are plaguing our collective web browsers.
Their headline generator allows users to generate Facebook, Daily Mail, Hollywood, Reddit and Buzzfeed titles with dozens of different headlines to choose from, putting to shame national newspapers and widely read sites with posts that are equally as unbelievable.

With titles such as 'Lauren Goodger narrowly avoids torrential rain', now you too can join the click-bait parade and openly mock the horrendous nature of stories hitting the web. And while 'How to pick your nose like a pro' remarkably hasn't yet appeared on Buzzfeed, it feels right at home on Lingo Bingo.
It really is depressing how plagued the web has become with these kinds of fluff-filled headlines, but perhaps the most worrying part is we wouldn't really be surprised if they actually hit the press or at least became the basis for Onion articles. At least for now we can take solace in fooling friends with our own home-grown click-bait shared via social media ourselves. After all, who wouldn't want to catch all their followers with a finger up their nose?