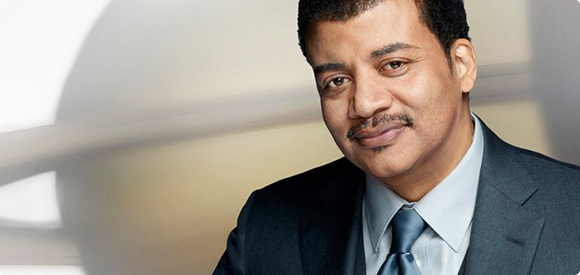 I first wrote about the upcoming reboot of Carl Sagan's landmark PBS series, Cosmos, back in July of 2013. To say I've been waiting patiently is an understatement. The new series is set to air this Sunday night, March 9th at 9pm and is hosted by noted astronomer Neil DeGrasse Tyson. The trailers we've seen over the last few months look impressive and both Fox and the show's producers have been in full PR mode on Twitter and social media promoting the series premiere.
When the series first aired back in 1980 I was enthralled by its scope and soaked up every bit of spacey goodness in the 13 part series. Like the original, the new Cosmos series promises to take us both to the far reaches of the universe as well as examine the human condition right here on Earth. We'll examine how life on our planet started, where we're headed and beyond. As I've learned about this new series I've gained a new respect for producer, Seth McFarlane who was also a huge fan of the original series and wanted to help bring its message of discovery to a whole new generation. The fact that he and Ann Druyan, Sagan's widow, were able to convince Fox to broadcast Cosmos during prime time is nothing less than a minor miracle. I sincerely hope fans everywhere tune and and prove to Fox their faith in an educational series in the meat of their line-up was not misplaced.
Tyson and McFarlane have said that the series contains a bounty of new information about our universe so this won't simply be a re-telling of Carl's original journey. The series will draw inspiration from his teachings but the state of human knowledge has advanced considerably in the last 30 years so there should be plenty of new ground to explore. I also hope that the show's creators take their time and explain complex concepts in ways that average people can understand. One of the best parts of the original Cosmos were segments when Sagan would simply sit and tell a historic story or explain the origins of complex theories like evolution or the formulation of the Drake Equation. I'm really hoping the new Cosmos isn't edited like a music video, going from cut to cut trying to keep kids from losing interest in the face of all that science.
As a fan I'm glad our wait is finally over and the journey is about to begin. Tyson and company have some huge shoes to fill but something tells me they'll do just fine. If you're a fan of science, NASA, the human condition or you are looking for a great way to spend some time with your kids, tune into Cosmos: A Spacetime Odyssey this Sunday night on Fox. Then be sure to leave a comment here and let me know how you liked it.
UPDATE: You can now buy the soundtrack to Cosmos: A Spacetime Odyssey by Alan Silvestri on iTunes. Cool!