My Most Anticipated of 2010
With so much to look forward to in the coming year, I thought I would assemble a list of just some of the things I'm anticipating most. All of the things on my list have been in development for a very long time, and all of them are coming to a head in 2010. If you're like me, then you know at least a one item on this list, if not then hopefully you're in for a few pleasant surprises.
• • •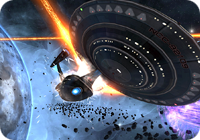 Star Trek Online
Video Games
When Star Trek Online finally beams down in February of 2010, the game will have been in development for over 6 years. This massively multiplayer online role-playing game (MMORPG) has the potential of being the best online experience since Blizzard's hugely popular effort, World of Warcraft. Players will be able to command their own starships, explore strange new worlds, and team up to defeat classic Star Trek enemies such as the Borg and Klingons.
Historically, video games based on the Star Trek franchise have not been widely successful. I have a feeling that Star Trek Online is about to change all that. How do I know? I've played it. That's right I've sat in the Captain's chair and I am here to say STO is a winner. I can't divulge much due to the closed beta NDA except to say that Cryptic Studios has managed to capture this Trekkie's heart with their incredibly fun and detailed futuristic universe. Star Trek Online enters public beta in January of 2010. Unfortunately no Mac or Linux version is planned for launch, but there is a logical alternative. If you own a fast Mac and aren't afraid to run Windows via Boot Camp, there's no reason you can't go where no one has gone before. Make it so!
• • •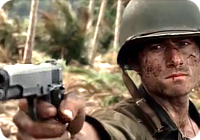 The Pacific
Television
From Producers Tom Hanks and Steven Spielberg, the team that brought us the Emmy Award winning miniseries, Band of Brothers, comes The Pacific. I first wrote about this HBO 10-part drama back in April of 2007 and have been waiting for it ever since. The original Band of Brothers was a tour de force showcasing the gritty realism and heroic courage of WWII in Europe. The Pacific aims to tell the story of a small group of Marines in the Pacific theater of battle and includes an almost entirely unknown cast of actors.
The Pacific is based on two memoirs of U.S. Marines: With the Old Breed by Eugene Sledge and Helmet for My Pillow by Robert Leckie. The series will tell the stories of the two authors and Marine John Basilone, as the war against the Empire of Japan rages. According to Wikipedia, the series will feature well-known battles involving the 1st Marine Division, including Guadalcanal, Cape Gloucester, Peleliu, and Okinawa, as well as Basilone's involvement in the Battle of Iwo Jima. While Band's battle scenes rivaled anything on the silver screen, it was always the thoughtful stories of the men who fought and died for their country that made the series so compelling. The Pacific is set to air on HBO in March of 2010.
• • •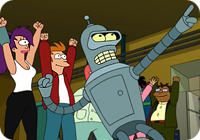 The Return of Futurama
Television
You just can't keep an animated robot and his hilarious best friends down. After a pre-mature cancellation by Fox in 2003, Futurama found new life in syndication thanks to Cartoon Network's Adult Swim and Comedy Central. The show's creators, Matt Groening and David X. Cohen teamed up and briefly brought Futurama out of deep freeze with the release of 4 straight-to-DVD movies, the last of which was released in early 2009. On June 9th, 2009, Comedy Central announced that they had picked up the show for 26 new half-hour episodes which are due to start airing in mid-2010.
I've been a personal fan of this deeply funny show since the first day it aired on Fox. While I have enjoyed the DVD films, the 1.5 hour format really didn't suit Futurama and the stories lost focus. I'm confident that returning to the 1/2 hour format will make all the difference as the writers, producers and voice actors once again lift us to new heights of geek-filled fun. Plus, I'm dying for new material for my Futurama icon sets!
• • •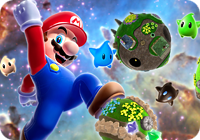 Super Mario Galaxy 2
Video Games
When it was released in November of 2007, Super Mario Galaxy quickly became hailed as one of the greatest video games of all time. As the flagship title for the new Nintendo Wii, Galaxy brought the beloved Mario series to a whole new level. The game challenged gamer's preconceptions of 3D level design as Mario dashed and jumped around and across entire planets on his hunt for Power Stars. Adding to the game's impact were the over 20 fresh and epic musical tracks scored by composer Koji Kondo. Although few sequels live up to the thrill of the original, knowing Shigeru Miyamoto as they do, Nintendo fans everywhere are anxiously awaiting Super Mario Galaxy 2's appearance sometime in 2010. Count me among them.
• • •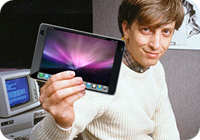 Apple iPadd
Technology
Rumors of the mythical tablet computer from Apple have been swirling for the better part of a decade, but it wasn't until the iPhone came along that the possibility of such a device seemed real. Add to that slips of the tongue from newspaper and magazine publishers, supposed patent filings and oodles of fake mock-ups and suddenly rumor becomes reality. If speculation is to be believed, then the iPadd (my pet nickname for the device ode to the ubiquitous tablet computers from Star Trek) will arrive sometime in March or April for under $1,000.
When all is said and done, the bigger question might be why is Apple making a tablet computer in the first place? The answer seems to be to do for books what the iPod did for music, that is to revolutionize it. Steve Jobs is apparently setting Apple up as the direct competitor to the hugely successful Kindle from Amazon, and that's just fine with me. Call me crazy, but I think if you're going to let users download and read books in bed, that device should have built-in backlighting. Oh, and color would be great too.
I could easily see my trusty iPadd coming in handy while I watch TV to tweet a snarky comment or to look up a movie reference. I could also see myself propping up the device on a nifty stand to display the recipe du jour as I cook. Oh yes, if and when the iPadd comes, I'll probably find a way to talk myself into needing it along with millions of other consumers. Curse you Steve Jobs!
• • •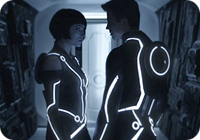 TRON Legacy
Movies
This long-awaited sequel to Disney's original TRON has geeks everywhere spazzing out. The story follows Flynn's son Sam as he attempts to track down his missing father. Inside the cyber world audiences first visited in 1982, the programs have become more advanced, video games more violent and cyberspace more deadly.
The sequel will feature original TRON stars Jeff Bridges as Kevin Flynn and Bruce Boxleitner as Tron himself. Given the advancements that have been made in computer special effects in the past 28 years, TRON Legacy promises to be a visual spectacle unlike anything movie goers have ever seen. Disney has scheduled the release date of the film as December 17th, 2010, a year and a few days from when I write this. Only time will tell if it's worth the wait.
• • •