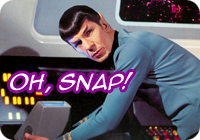 Just prior to the launch of the iPhone, I posted a quote from my favorite Vulcan, which seemed to portend the mindset of those who decided to partake in the gadgety goodness. Having owned my piece of the future for one month and ten days, I am here to tell you that when it comes to the iPhone, Spock, thankfully, don't know jack.
My purchase of the iPhone has lived up to all of the advanced hype and then some. Sure some will say that I'm just a fan boy caught in the expansive reality distortion field radiating from my phone. But those who know me will tell you that despite my love for Apple, if I'm not satisfied with a purchase, I don't have a problem saying so. Years ago I got the royal screw from my favorite fruit company when I bought the infamous Apple IIvx, which was supplanted just 4 months later by the Centris line of Macs. I've never let Apple off the hook for that one, even to this day.
Thankfully, the iPhone is light years away from my IIvx experience in every way imaginable. Here are just some of the ways the iPhone lives up to the hype:
• The User Interface – Once you hold it in your hand, touch the controls, scroll photos, and pinch a website larger or smaller, you'll wonder why cell phones have never done this before. The user interface is quite possibly the best single thing about the iPhone. It's elegant, snappy, clear & thoughtful.

• Mobile Safari – Sure it quits sometimes, but it more than makes up for this shortcoming by being the single best answer to the internet on mobile devices. Enlarging text, clarity of page renders and great bookmark management all add up to a real winner.

• YouTube In Your Pants – Being able to search and view YouTube videos at will, any place and any time is freakin' fantastic. Once the entire catalog is converted to H264, I don't think I'll ever watch funny cat movies on my Wii ever again.

• All the Little Things – The use of Helvetica throughout the UI, the gorgeous hi-res screen, how easy it is to make a phone call, visual voice mail, and yes, even the battery life are all great on the iPhone. They all add up to an experience that makes me want to take it with me where ever I go. The same cannot be said of my old Sprint phone.
It can't all be a love-fest can it? No, sadly there are a few things that are not as good as they could be. They include (in order) AT&T, a missing official SDK, AT&T, finger and ear prints, no games, and did I mention AT&T? It's not surprising that the weakest part of the iPhone is the part out of Apple's control, namely the spotty network coverage and poor customer service of AT&T. With the news today of multiple methods to unlock the iPhone from the shackles of you-know-who, I suspect there will be some very happy potential customers who will now take the plunge.
The first question people always ask when they spy me with my iPhone is "How do you like it?". My answer is always the same – "It's just fantastic, I love it!" It's the first time in my life I think I've ever spoken ill of Mr. Spock. See what you've done to me Steve!