HBO Greenlights "The Pacific"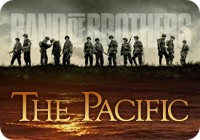 Without a doubt, one of my favorite all time television events was HBO's award winning mini-series, Band of Brothers. Tom Hanks and Steven Spielberg, fresh off the tremendous success of Saving Private Ryan, took all of the production team for that Oscar winning film and successfully transfered it to the small screen as Band. Today comes word from Variety that they will team up for "The Pacific" to tell the tale of WWII once again, this time from point of view of the Asian-theater of battle.
Variety reports that cast members and a director have not yet been named, but I'm willing to bet we'll see some familiar Band of Brother's faces crop up in the production. Band of Brothers walked away with a grand total of six Emmy awards and a Golden Globe for its portrayal of Easy Company through Europe in World War II. Hanks and Spielberg are sure to try and capture that lightening in a bottle once again, and I for one am VERY happy. I've heard rumblings about this series for over two years now and I simply can't wait. When Band aired in 2001, Mindy and I would count the days between episodes so we could sit and watch the tale of these brave men and their real-life acts of courage. Variety says that this series will highlight the differences between the European and Asian fronts in WWII and how the fighting was so different. As a guy, I look forward to the battle scenes with anticipation, but I also hope the team recaptures the human element and drama that made Band so profoundly excellent. 2009 can't come soon enough.