It's All About the Twitter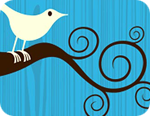 News Channel 12's Bill O'Neil gave the Iconfactory a ring this past Friday to get our input into a story he was putting together on the power and appeal of Twitter. Our schedules didn't jibe, but fortunately Bill was able to hook up with some of Greeensboro's best known bloggers and Twitter users for a piece called Bringing Business Through Twitter.
In the piece Bill interviews two new friends I met up with for the Tastecasting of Table 16 a few weeks back – Ryan Robbins and Danielle Hatfield. They're joined by local blogger and internet strategist Sue Polinksy as they each discuss how Twitter is changing the face of communication in the Triad. I'm really happy I've gotten to meet so many of the local online community lately, mostly thanks to Twitter. If you want to learn more about how the power of Twitter is being harnessed in the Greensboro area, head on over to the WXII.com website and check the piece out.