Unpretentious World Cuisine at Greensboro's Table 16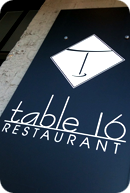 If you met me on the street it wouldn't be difficult to deduce that I enjoy eating. My mother loves to say that I'm "big boned", but the truth is I love food. I consider myself a fairly skilled cook and I find that as I grow older, my appreciation for well prepared meals has increased. So when I was invited to join a group of local bloggers to "tastecast" Table 16 here in Greensboro, I was only too eager to jump at the chance. I was not disappointed.
Located at 600 South Elm St. here in Greensboro, Table 16 offers up a fine dining experience unlike many others you have probably encountered. Chef Graham Heaton prides himself on crafting appetizers, entrees and deserts that are as varied in approach as they are filled with love. If you've never had the privilege of enjoying an 8 course menu the head chef has prepared especially for you, Table 16 is the place to start. Although only in his early 30's, Heaton's approach to the tasting menu he created combined thoughtful preparation and exceptional skill. This is the kind of dining you often see on television or read in very thick novels, but wouldn't think to experience here in Greensboro. Now you can.
Our wonderful dinner began with a light vichyssoise served with yukon gold potatoes, georgia onion and crab salsa and progressed through items such as pan seared halibut with creamed corn & pernod to NY strip steak w/ tasso ham & fried green tomatoes. Each delightful dish that was brought to our table was proceeded by a special wine pairing that heightened each of the courses. I don't drink myself, but judging from the reactions of my fellow diners, the wine choices were spot on each and every time.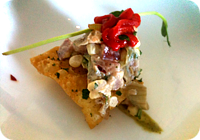 Of all the dishes we enjoyed during our time at Table 16, my favorite had to be the second course. Ahi tuna and hot sausage poke (tartar) served on a wonton cracker with wasabi and fava bean pureé. This little heavenly delight had all the elements that make a dish great – varied textures and deep, rich flavors which were all cleverly combined in a way that, at first glance, seems simple. However, after just one bite you realize you're in for something special. I gave the Chef several "thumbs ups" as he gazed from the kitchen to make sure we were enjoying our dinner. He smiled back and knew I was happy.
As incredible as the food was, the other great thing that struck me about Table 16 was how comfortable I was while we ate. It's fair to say that five-star dining is a once-in-a-blue-moon experience for me and my wife. The cost, attire and locations one must endure to enjoy such an evening are usually prohibitive. While the expense of Table 16 is what you would expect to pay for such a wonderful and varied menu, the decor and atmosphere of the restaurant is just perfect for those usually intimidated by "fancy places". It is true that the dining room offers a lovely view of Sound Elm and gives the hustle and bustle feeling of big city dining. This is offset by the warm and friendly staff who go out of their way to make you feel at home. From their friendly banter to the modest decor, Table 16 forgoes the usual stuffy nods to put all its attention into the food, where it belongs.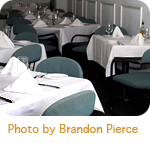 All too often I've wondered what it would be like to dine at a certain fine restaurant only to be turned back by the need to turn myself into someone I'm not. I don't own fine suits, I don't have all the money in the world and I certainly don't need to be handled with kid gloves. While we ate, I saw other customers wearing much less formal attire than I (t-shirt & jeans) and having the meal of their lives. Thankfully the owners realize that customers come in all shapes, sizes and means and they are better for it.
Table 16 is a proverbial diamond in the rough. The menu is delectable and the kitchen is run by a Chef that obviously loves what he does and cares about his customers. The owners reached out to the local blogging community and generously offered to host our evening in the hopes that word could spread about this unassuming little eatery in the heart of downtown Greensboro. I thank both Table 16, as well as Scott Brewster, Adam Marney and all the other wonderful people I had the pleasure of meeting and dining with that evening. I wouldn't hesitate to recommend Table 16 to anyone looking for a night of culinary discovery in a relaxed and friendly atmosphere. Don't miss it.