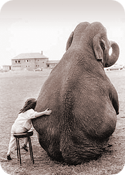 Lately I've been trying to figure out why I chose the road of becoming a liberal Democrat, especially when my entire family are die hard Republicans. I remember when I first registered to vote I remained cautiously neutral as an Independent for fear of disappointing my parents. In many ways I am my father and mother's son. I share their strong work ethic, their morals and their love of God and family. My mother taught me at an early age to see things with the eyes of an artist and how translate those things to canvas be it physical or digital. From my father, I learned the importance of our family heritage and to always strive for the very best in everything I do, from work to relationships. Like so many others, my parents molded me in important ways in their image. I'm proud to be their son and love them beyond words.
And so when I spoke with my mother recently and she told me how John McCain's acceptance speech at the RNC brought her to tears with pride, and how she was really looking forward to McCain and Palin being our next President and Vice President, I had to fight back the wave of sadness that swept over me. I've long given up trying to persuade my folks that Republican's don't always do what's in the best interests of our country. Mom & Dad are set in their ways, just as I am in mine and arguing about it only brings strife between us. But at the same time there is a big part of me that wonders where the "compassionate" part of my conservative parents went.
Being raised a Catholic, I was taught that Jesus loves us unconditionally, but ask conservatives if gays deserve God's love or even equal treatment under the law and you're apt to get an earful of "one man to one woman". Some conservative churches, like Sarah Palin's, actively promote the conversion of gay people to heterosexuality. Jesus taught us to "do unto others as you would have them do unto you", and yet conservatives see nothing wrong with waging endless war based on lies, while killing and maiming hundreds of thousands of innocents. And what ever happened to Jesus' mission of helping the poor, and tending to those among us that are sick or affirmed? Raising people from the depths of poverty and providing healthcare for all Americans are Christ-like endeavors that have somehow become tenants of the evil "socialist left" considered by Republicans to be despised and opposed at all cost.
We are the sum of our experiences. Events in our life, and the people we surround ourselves with, shape us and hone our world view. My family was always the first to lend a helping hand to those in need. We never looked down on others less fortunate or different from ourselves. Without realizing it, my parents nudged me out the door and down the path to becoming the progressive, liberal individual I am today. I only wish they had decided to come along with me for the ride.