Of all the facts on display in this chart from the Democratic Caucus regarding the quality of life for Americans now compared to when Bill Clinton left office, the most damming is the percentage of foreign oil the U.S. now imports. Bush could have used his presidency to call for increased research in renewable fuels, but instead we now import 60.38% of our oil from other nations compared to 52.75% in 2001.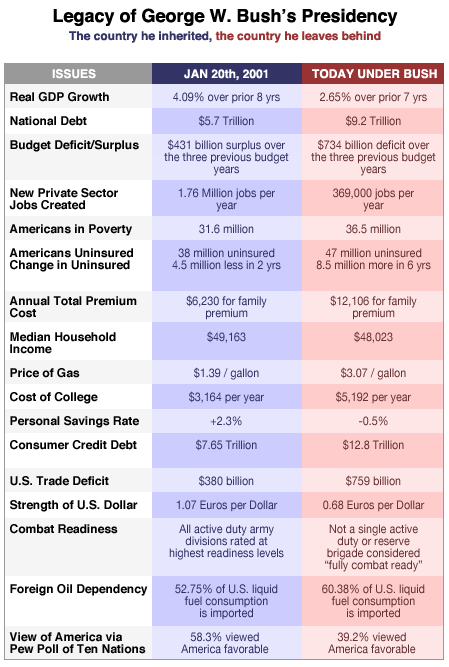 Despite Bush's war of choice in Iraq, this single fact, has decreased the national security of the United States considerably in the last six years. Threats to our economy and stability would have been significantly reduced if we had started to ween ourselves from foreign oil when he took office. Instead, our dependency on oil has grown, as has our national deficit, health care costs & the price of gas.
Bush likes to think that history will eventually judge him and his record favorably once the seeds of his policies have had time to germinate. Given the facts presented here, it seems the only thing sprouting during his time in office were weeds.