Here you can download the various GUI goodies I've made for your Macintosh or PC computer. I don't provide technical support on any of these items I'm afraid. You can find information regarding desktop pictures over at the Iconfactory. The rest is up to you!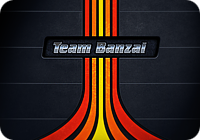 Desktop Picture
Team Banzai – 2560×1600 | 1600×1200
320×480 (iPhone)
80′s style desktop picture inspired by the movie The Adventures of Buckaroo Banzai. Join Team Banzai and help Buckaroo defend the Earth from evil!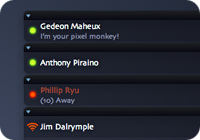 Adium Theme
Frenzic (40 kb) – Download
A custom contact list theme for the instant messenger application Adium. The look and feel of the the theme is based around the visual design of Frenzic for the Mac.
Desktop Picture
20,000 Leagues – 2560×1600 | 1280×1024
Alternate – 2560×1600 | 1280×1024
A fun, retro style desktop picture partly inspired by the artwork of Greg Maletic. A tribute to Walt Disney World's 20,000 Leagues Under the Sea attraction, which was retired in 1994.