Star Trek: Next Gen Wallpapers for iPad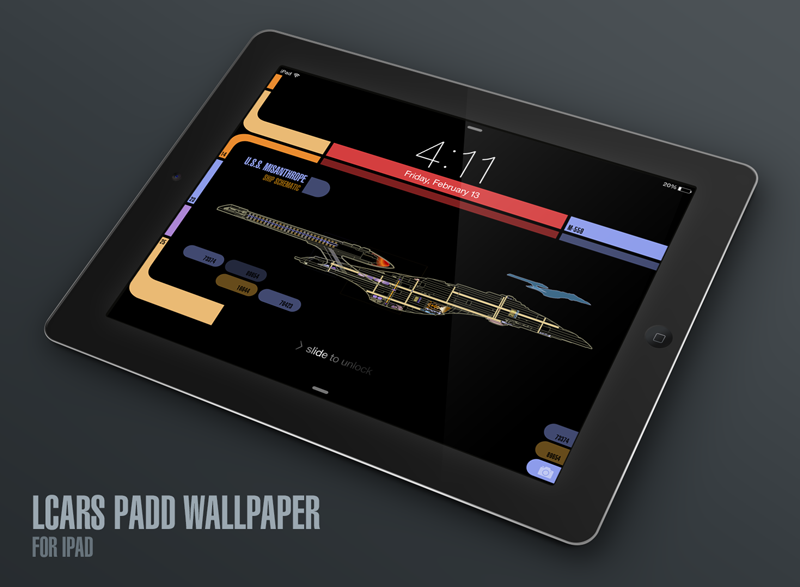 A few months ago I released several iPhone wallpapers that Star Trek fans have really been enjoying. The response to these LCARS-style graphics was tremendous and almost immediately I started receiving requests for iPad versions of them. The problem was there's no way to design a square LCARS wallpaper that works both in portrait and landscape mode on the iPad. All of the major elements on-screen (the time, date, slide to unlock & camera icon) are positioned differently when you rotate your device.
A big part of the charm of the iPhone LCARS wallpapers is that the iOS elements flow right into the design and become part of it, but this just isn't possible to do with a single image for iPad. The solution was to not even try and to design separate wallpapers that can be used in either landscape or portrait, not both. The result is the landscape Next Gen iPad versions I've created here. I may create portrait versions at some point, but the majority of iPad owners use the device in landscape mode primarily so that's what I went with.
I've been a huge fan of Star Trek Production Designer, Michael Okuda since day one and like the iPhone versions, this project is my ongoing way of saying "Thank you!" for the wonderful, futuristic operating system that Next Gen fans know and love as LCARS. With these new iPad versions, you can definitely feel like you're using a real Next Gen PADD when you unlock your tablet, it's super fun!
How to download and apply the wallpapers on iOS 8:
1) Click to view the version of the iPad wallpaper you like best:
• iPad landscape – Original / TNG Colors
• iPad Pro landscape – Original / TNG Colors
• iPad landscape (Starship Schematic) – Original / TNG Colors
• iPad Pro landscape (Starship Schematic) – Original / TNG Colors
2) Tap & hold on the image in mobile Safari & save it to your photo library
3) Open Photos, view the image then tap the Share button in the lower left
4) In the Share menu tap Use as Wallpaper
5) Pinch Zoom OUT on the image to size it exactly to the screen
6) Turn Perspective Zoom OFF
7) Position the image so the Lock Screen's date line is centered inside the thinner, red upper bar
8) Tap Set > Set Lock Screen
That's it! Sleep/lock your iPad and the next time you activate it, you can pretend you're Captain Picard himself receiving an important message from Starfeet Command. I hope you enjoy this fun treat & help spread the word via Twitter and Facebook.
Be sure to visit my Goodies page to download other fun desktop wallpapers for iPhone, iPad & Mac. Engage and enjoy!
UPDATE: Added new sizes of both variants of the LCARS lock screen for the new iPad Pro.