Uhura's Mysterious Armband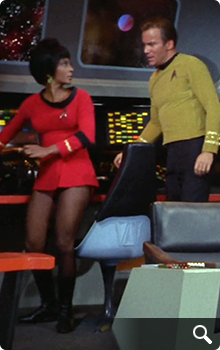 You have to understand, I have seen every episode of the original Star Trek series dozens of times so when I spot something I've never seen before it's like receiving a wonderful, geeky present. I recently came across startrekhistory.com, an amazing repository of original Star Trek deleted scenes, unseen photos and production resources. There's an entire section of the site dedicated to the construction of the original 11-ft model of the Starship Enterprise that no Trek fan should miss. There's also a section devoted to deleted scenes and visual miscellany, one of which comes from the classic episode The City on the Edge of Forever – Uhura's mysterious black armband.
I must admit that even after nearly 40 years of watching Star Trek, I had never seen this costume element before. The band is worn on her left arm and is only shown in the opening sequence. What is it? Why is it there for only this one scene? Is it simply a goof or something else that we never got to see? The authors at StarTrekHistory theorize it might have been a velcro strap that Uhura could attach her famous ear piece to when not in use, similar to how the crew wore their phasers and communicators. That theory sounds pretty plausible to me and since it never appears in any other scene in the original series, we'll probably never know. Tiny details like Uhura's armband may seem like minutia to the uninitiated, but to life-long Star Trek fans like myself they bring nerdy joy. I LOVE that even after all this time, I'm still discovering things about Star Trek I never knew. Utterly fascinating.