There's a New Chick-en Town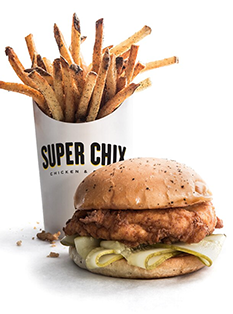 Next week, the nation's largest chicken chain (by sales), Chick-Fil-A, will launch a new grilled chicken recipe that it spent seven years and more than $50 million dollars developing. The new recipe is designed to get customers to crave grilled chicken as much as their signature "Southern fried chicken sandwiches", a tall order to be sure. Chick-Fil-A's recipe for more healthy, tasty offerings have helped propel the chain past Yum! Brands (the parent company that owns KFC, Taco Bell and Pizza Hut) in total annual sales. The Atlanta-based Chick-Fil-A took in $5 billion last year to KFC's $4.22 billion and did it with only 1/3 the number of locations. Enter Super Chix, an unassuming, singular restaurant which opened just this week in Arlington, Texas. Super Chix is (hopefully) Yum! Brands' answer to the seemingly unstoppable, juicy juggernaut that is Chick-Fil-A.
Although Super Chix is, at least for the moment, a single test location deep in the heart of Texas, Yum! could quickly seed Super Chix resturants across the country should the concept prove successful. And just what is that concept? Although it's tempting to brand Super Chix as clone of Chick-Fil-A, it actually seems more like a remix of several successful chains. Super Chix founders, three guys named Christophe, Nick and Jeff, say they offer simple food made with "ingredients everyone can pronounce," made with no MSG, high-fructose corn syrup or phosphates. The chain offers hand-squeezed lemonade, hand-cut Idaho fries ala Five Guys, and three types of pickles for their sandwiches – Sriracha sweet & sour sauce and kosher. For my money though, one of the most notable lines of attack isn't what they're offering, so much as when they're offering it:
Just had the sammie @Superchix1 and it was awesome. Great fries and custard too. Best part? #opensunday if you know what I mean

— Ian (@Ianaggie) April 12, 2014
With increased pressure from casual fast food chains like Chipotle Mexican Grill, Panera Bread and especially Chick-Fil-A, Yum! knows they need to get crackin' in order to stem sliding sales. Good, simple food is certainly the best way to turn things around but Super Chix would also give consumers an important choice in the morality department. Chick-Fil-A and its owner Dan Cathy, came under scrutiny in 2010 for his documented support of anti-gay, Christian organizations which sparked several grass-roots boycotts. It's uncertain if those boycotts hurt Chick-Fil-A or not but the PR backlash was real and probably led to Cathy's reversal of company policy in 2012. Furthermore, Cathy recently admitted he wants his business to "move past" the anti-gay controversy, leave politics to politicians and focus on expanding the chain's offerings. Sounds great, but consumers like me have a long memory. If I had a place to patronize that gave me all the delicious chicken goodness of Chick-Fil-A without any of the "holier than thou" attitude, I for one would certainly take it.
For the time being you'll have to visit Arlington if you want to try a Super Chix chicken sandwich, chicken tenders or their creamy frozen custards. I certainly won't be making a pilgrimage to Texas any time soon, but I will be hoping (not praying) that the test market is successful enough to warrant future expansions. Besides, those adorable cows have hogged the lime light long enough.