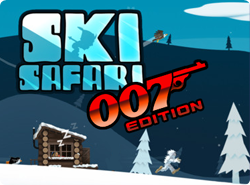 Lately I've been playing a great deal of Ski Safari, a wonderful casual game from Defiant Development for iOS. The game is a high score climber similar to the awesome Tiny Wings, in which you play play Sven, a skier trying to stay ahead of an ever-approaching avalanche. The object of the game is to simply get as far as possible, picking up coins, speed boosts and various forms of animals like penguins and even Yeti's in a high-paced race to stay alive. Developers Brendan Watts & Shawn Eustace have done a marvelous job of making Ski Safari fun, addictive and immensely satisfying to play. I have a bit of a competition going on with a few of my friends as we play a high-stakes game of one-upmanship on the snowy slopes of the high Alps.
The game is pretty awesome as it's designed, but I recently discovered I could make amp up the coolness by a factor of 10 or so simply by turning off the default music in the game and substituting my own action-packed soundtrack. And what soundtracks are best suited for racing down snow-covered mountains at breakneck speeds? Why none other than the ultimate spy, James Bond, of course! If you own any of theme tracks from the James Bond films, simply start them playing on loop and then turn off the in-game music to give yourself the ultimate action sequence experience. I've found that "Runaway" from Roger Moore's For Your Eyes Only and "Bond 77" from The Spy Who Loved Me, are the perfect Ski Safari tracks, but your death-defying milage may vary.
Maybe the developers of Ski Safari will eventually see fit to make a James Bond-esque version of their game complete with bad guys on black snowmobiles, machine guns and deadly helicopters chasing you, but until they do, this is the next next best thing. Have fun and do try and come back in one piece, 007!