Wel-l-l-l-l-l-l! Dick Orkin's 'Chickenman' on iTunes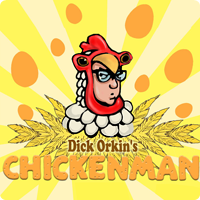 A hundred years or so ago when I was attending RIT, my friend and college professor Steve Loar, introduced my classmates and I to one of his personal loves, an old radio show named Chickenman. Created by broadcast hall of fame inductee Dick Orkin in 1966 for Chicago's WCFL, Chickenman was inspired by the popular TV series "Batman". Originally scheduled to run just two weeks, the show's popularity took flight and eventually became nationally syndicated, ensuring its success. Today Chickenman remains the longest running radio show in history and can be heard on XM Radio's Channel 151 and American Forces Radio and Television Service (AFRTS).
Each episode checks in around 2 minutes long and tells the tale of Midland City's Fantastic Feathered Fowl, an anti-hero who roams Midland City seeking criminals in his yellow crime-fighting car, the Chicken Coupe. He has a secret headquarters, the Chicken Cave, accessible through a trap door in his bedroom closet and when his duties as shoe store manager keeps him busy, his mother Mildred fills in as the "Maternal Marauder".
Back when Steve introduced us to Chickenman in 1990, there were only a handful of episodes were released on vinyl, but every one of them managed to bring a smile to my face. I used to love listening to the White Winged Warrior hang out in the mayor's office, generally annoying the almost-unflappable Miss Helfinger, performed to acerbic perfection by Jane Roberts.
I recently discovered that all 273 episodes of Chickenman are available via iTunes for download and I've been in poultry heaven ever since. If you love snarky, quick-paced humor, comics or just want to have a good laugh, wing your way over to iTunes and check out Dick Orkin's Chickenman. Just remember evil doers, he's everywhere! He's everywhere!