You're Gonna Need a Bigger Screen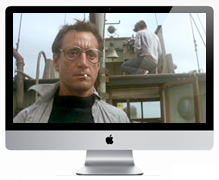 Well not necessarily a *bigger* screen, but you will need one that sports more pixels per inch. That is to say if the predictions about the iPad 3 are true then your current desktop setup is about to feel very inadequate when developing for Apple's mobile operating system, iOS. How so? It turns out that the new iPad's predicted native screen resolution of 2048×1536 is larger than will fit comfortably on any of Apple's current desktop hardware. At the Iconfactory I use a dual-display setup of a 30″ Cinema display and a 27″ iMac. Even my 30″ doesn't support enough pixels to view the iPad 3's screen (particularly in portrait) and that's a problem.
When designing or coding for the iPhone and iPad, it's critical to be able to view your work at a 1:1 ratio. It's best not to view a Photoshop mockup or Xcode simulator window by zooming out, or compressing the pixels to fit the screen. Doing so makes it difficult to tell when interface elements like buttons, tabs and fields properly align or are positioned correctly. I could go into a long explanation of how the math for all of this works out, but TUAW's Richard Gaywood and App Cubby's David Barnard have already done that in fine style. If you're interested in the ins and outs of screen resolutions then head on over and check them out. For my part, I just want to know how long I'll have to limp along designing for a screen resolution I cannot see 1:1 without having to scroll around. David suggests that Apple won't be in any particular hurry to bump up the resolutions of their desktop offerings and I have to say I agree with him.

To Apple, the customer comes first not the developer, which is how it should be. Higher resolution displays will eventually be a great selling point for new desktop Macs (and will solve developers' iPad 3 problems), but they will undoubtedly take time to bring to market. Recent discoveries in Mountain Lion bolster the theory Apple has been planning higher density displays for some time but that doesn't mean Tim Cook will be announcing them on March 7th. So if you're a developer like me, be prepared to feel a bit cramped for a while. How long is anybody's guess but I wouldn't hold my breath.