To Thine Own Self Be True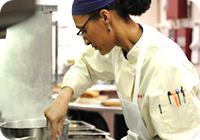 SPOILER WARNING: This post contains spoilers for season 5 of Bravo TV's Top Chef. If you've not watched the finale episode yet, then you should stop reading right now. I really mean it. Just stop.
Part of the problem, and allure, of reality television is that it doesn't always go how you want it to. Take the conclusion of one of my favorite shows, Bravo's Top Chef. Season five of the hit reality series about a group of wannabe Julia Childs seemed to be full of promise. There were a number of chefs that really knew their way around the kitchen and were worth rooting for.
They ranged from fan favorite Fabio, a suave Italian competing to be Europe's first Top Chef, to my personal favorite, Carla Hall, the eclectic cook who put a heaping tablespoon of love in each of her dishes. Like many others, I didn't like Carla at first. She seemed too flighty to be a serious competitor and didn't win any of the Quick Fire Challenges early on. Then a strange thing happened. Carla decided to make dishes from her roots and cook food she was passionate about. She began to earn the respect of the judges, edged out Fabio for one of the 3 spots in the finale and seemed to be poised to take the title.
I was sure the competition in the final round would be between Carla and Stefan. The other finalist, Hosea Rosenberg never seemed to have his act together, a fact illustrated when he crossed the line flirting with another contestant, Leah Cohen. In addition, despite owning his own seafood restaurant, Hosea lost a critical seafood challenge. So when Hosea managed to best both Carla and Steffan for the ultimate title of season 5 Top Chef, I was upset.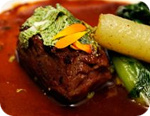 I was upset with Carla not because she cooked poorly or made mistakes, but because she let herself be second-guessed by her assigned soux chef, Casey Thompson from season 3. Casey convinced Carla to cook her main entree using a technique she wasn't familiar with, sous vide. The meat was rubbery and didn't have the soulful feel the judges had come to expect from Carla. In addition Carla took another bit of advice from Casey and changed her desert course from a tart to a much more risky soufflé. Carla didn't pay attention to the oven temperature and the soufflés were ultimately ruined.
By taking direction from the person who was assigned to her, Carla effectively gave the $100,000 prize to Hosea. To add insult to injury, Hosea managed to pull an upset against the man who has served as William Shatner's personal chef, Stefan. If anyone of the three deserved to lose Top Chef, it was Hosea, and judging from the polling that night about who the audience thought would win (Carla 65%, Stefan 20%, Hosea 15%), the final results came as a shock.
Carla doesn't blame Casey for her loss, and although I was upset with Casey at first, I've come to realize it wasn't her fault. Carla was the one who didn't listen to her inner chef and follow through with her plans. Like so many of us in our day to day lives, Carla let hesitation creep in and as a result, her once strong plans turned sour. If there's a lesson I'm going to take away from my latest bout with reality TV, it's simply this – stay true to yourself. That plus don't take cooking advice from runner-ups. Here endeth the lesson, we still love ya' Carla.