Mini-Review of The Force Unleashed for the Nintendo Wii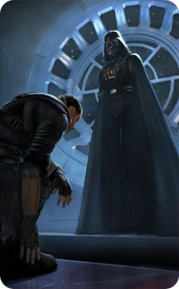 I like it, you should go buy it. How's that for "mini"? In all seriousness, I picked up The Force Unleashed for the Nintento Wii last weekend and it's turned out to be a great purchase. Much has been written about the game, so I'm not going to outline the plot or bore you with technical details about frame rates. I bought the game because I wanted to discover if all the hype that has been spun around the Force Unleashed was deserved. Incredibly enough, it is.
After running through the tutorial, the game quickly earned major geek points as I was able to play as Darth Vader himself! Any game that has the balls to put you in the evil driver's seat up front isn't messing around. Although you soon become Vader's apprentice "Starkiller", the ability to manipulate the dark side of the Force and wreak havoc on those around you was just as potent as playing as the Dark Lord himself.
Pick up huge objects and hurl them toward your enemies. Toss droids and storm troopers like rag dolls. Hurl your lightsaber across a hanger bay with pin point accuracy to impale your latest victim. After playing for just a few minutes, the appeal of The Force Unleashed becomes clear. Even on the Wii, with it's less than perfect graphical engine, game play is immersive and tactile. The Wiimote and nunchuck controllers make dueling hand to hand immensely satisfying and almost second nature. The music, story line and straight forward controls all contribute to make The Force Unleashed the first Star Wars game in years I've actually liked. I have had to fight with the camera on occasion, and defeating bosses seems too easy for my tastes, but overall it's a winner.
Unfortunately IGN says the single player levels only took them a total of 6 to complete which is disappointing. I have a feeling that just when I start to really get into it, the game will be over. At least playing on the Wii, I have the Duel VS mode to look forward to which isn't available on the PS3 or XBOX versions of the game. If you own a Wii and are a Star Wars fan, then I definitely recommend picking up a copy of Force Unleashed. It may not be as good as Nintendo's home-grown offerings, but it is still solid fun for wannabe Jedi of all ages.