'Race' Returns Sans HD. Again.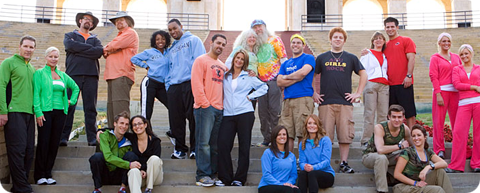 CBS has updated the official website for season 13 of their Emmy winning reality series, The Amazing Race. My favorite reality show's 13th season features 11 new teams as they race around the globe to try and be the first to cross the finish line for 1 million dollars. I was really hoping that the show's producers would make the move to gorgeous high-def by now but the AP is reporting this isn't the case.
Although CBS's mega-hit Survivor has finally switched to HD this year, The Amazing Race seems to be stuck at a roadblock. Executive producer Betram van Munster told the AP that his show won't switch to high definition anytime soon. "I don't think it's a priority. We're just happy to continue making the show as it is." That's too bad because if there ever was a TV show made for HD, Race is it. Jet-setting to exotic locations, exploring unknown streets and experiencing challenges in 1080p is just what The Amazing Race needs to give it a kick in the pants.
Aside from the HD disappointment, I'm really looking forward to the debut. Season 13 includes the usual assortment of teams like the blonde belles, the long-distance daters and even a pair of aging hippies. Being the huge geek that I am, my money is on Mark and Bill, two long-time friends and comic book fans who met at a science fiction club. CBS also promises several firsts this year including race legs in Cambodia and Kazakhstan. The network has also revealed one team will make an "unprecedented mistake" on the road, which will keep them from crossing the finishing line. Thanks to my friend Cabel Sasser of Panic fame, we already know which city that finish line will be featured in. He also told me about one of the final race challenges which he was lucky enough to (kind of) witness, and it sounds positively WILD. I think you'll really love it.
The new season of The Amazing Race begins Sunday, September 28th at 8pm est. Despite the lack of HD, Race really is the best reality show on television, bar none. Just once however, I'd love to see someone get Philimated in glorious wide-screen format. Oh well, there's always next year. Travel safe!