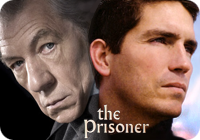 Wonderful news for sci-fi fans today as the Guardian reports that Ian McKellen has signed on to star in a remake of one of my all-time favorite TV shows – The Prisoner. Opposite McKellen in the leading role made famous by Patrick McGoohan, is Jim Caviezel of The Thin Red Line. Both Caviezel and McKellen will star in all six (no pun intended) episodes of the mini series that tells the tale of a kidnapped British spy trapped in a mysterious place known as The Village.
The enigmatic series originally aired in the UK the 1960's and instantly became a cult hit. The show employed clever dramatic devices and an intricate plot arcs that were the forerunners of shows like Lost and Twin Peaks. Says writer Bill Gallagher of the new series:
"will reflect 21st century concerns and anxieties, such as liberty, security and surveillance, yet also showcase the same key elements of paranoia, tense action and socio-political commentary seen in McGoohan's enigmatic original".
With such big name stars as Ian McKellen, I have high hopes that this new remake of The Prisoner can recapture some of the mystery and surreal qualities of the original. Hopefully we won't have to wait too long before the series is shipped to the states. The Guardian piece says The Prisoner will air on AMC, which is fine by me, as long as it's just not the Sci-Fi Channel.