Ridley Scott Breeds New "Strain"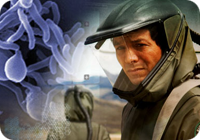 I'm pleased to report one of my favorite science fiction films of all time is the latest flick to get the Hollywood make-over treatment. Airing over two nights, beginning tonight at 9pm est on the A&E network, The Andromeda Strain, tells the tale of a particularly nasty alien microbe that threatens to wipe out all life on earth. Director Ridley Scott's new version of the classic 1971 picture promises to be full of action, suspense and smart science and features a solid cast including Benjamin Bratt, Viola Davis & Andre Braugher.
Based on the best-selling novel by Michael Crichton, the original version of Andromeda gave audiences of the 70's a realistic look at what just might happen if an alien microorganism fell to earth. The movie's deliberate pacing, cold electronic soundtrack by Gil Mellé and use of multiple simultaneous shots (spoofed in Austin Powers and made famous today by FOX's 24) builds suspense and impending dread even when viewed today. If the original Andromeda Strain had a weak point, it was surely the rushed ending which bottled things up neatly, without deliberate action from Wild Fire's team of sequestered scientists. Somehow I doubt Scott will let his version go out with a whimper, and if he plays his cards right, this new version just might be a classic for the ages. High hopes to be sure, but coming from the director of Black Hawk Down, Blade Runner and Alien, I would expect nothing less. Should be a fun couple of nights, check it out.
UPDATE: After having watched both parts of the new version, I can see my hopes were sorely misplaced. Ridley Scott should stick to directing real films instead of producing made for TV movies cause this version couldn't hold a candle to the original. The plot gets wrapped up in the meaningless exploits of an addict reporter whose actions ultimately don't amount to squat. The effects were second rate and all of the great scientific detective work at Wild Fire felt rushed. Save yourself four hours of your life and don't bother to tune in to the repeats OR purchase the DVD. Go buy the original 1971 version instead. At least Andromeda is actually creepy in that version.