Restaurant Graveyard Additions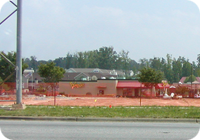 Back in March I wrote a post about some of my favorite local restaurants that, for one reason or another, have kicked the bucket. As much as we'd love for our favorite hangouts to thrive and flourish, unfortunately this isn't always the case. A city is a living, breathing thing and businesses are born, live, and then eventually they sometimes die. If you live in a place long enough, you see it happen all to often and in today's tight economic times, it seems to be happening more and more. Here is a short update of two places that I used to frequent that have gone to what I call, Greensboro's Restaurant Graveyard.
Imperial Gourmet – Vanishing International Buffet

Until a week ago, Imperial Gourmet was located near the intersection of W. Wendover Ave and Stanley Road here in Greensboro. If you drive by on your way to Home Depot or Best Buy, today you'll notice only an empty lot. Bulldozed to the ground, Imperial Gourmet was the only real option for chinese dim sum in Greensboro. Before it opened back around 1998, one had to travel as far away as China One in Durham for pork sticky buns and turnip cake. Sadly the food had been declining in recent years and the owners couldn't decide if they wanted to offer Japanese Sushi, Chinese-American fusion or authentic dim sum, none done well. Despite having a prime location on one of the busiest roads in Greensboro, Imperial Gourmet exists only as a memory and now even China One is closed. The search or good dim sum in the Triad starts anew.
Giacomo's Italian Market – Beware the Ghost of Simply Italian!

The intersection of Hilltop and Highpoint Road must be cursed. It previously claimed my favorite drive thru of all time, Simply Italian, and now it has murdered another local favorite, Giacomo's Italian Market. While Giacomo's isn't a traditional sit-down restaurant, it did offer some of the best quality Italian food anywhere in Greensboro. I've written about the chain's other location on New Garden Road and their wonderfully delicious sub sandwiches before. And while I had not visited the Highpoint Road Giacomo's for several years, I have no doubt it was the location that finally did it in. Highpoint Road has been dying slowly for years as traffic and development shifted west to Wendover Ave, leaving several businesses in dire straights. Giacomo's Italian Market was only the latest casualty in a long line of eateries that went up to dining heaven. Hopefully the New Garden location will survive for years to come.
Restaurant Death Watch Update
I'm pleased to report that my original picks for Restaurant Death Watch are still here and kicking. Of the three, I most frequently visit Mykonos Grill and I have to say every time I eat there the place is jumping. So much so that I think they could stand to move into a larger space, but then again I don't want to upset the delicate balance that they have going so I'll just squeeze in when I can.
Panizzo's Cafe & Bakery
– This fun little cafe has some of the best lunch fare and baked goods anywhere in town. Unfortunately when I and the guys from work visit for lunch, the dining room is usually close to empty. I'm not sure what's keeping the place from being successful, but if things keep going the way they are, I fear a new addition to the graveyard any time now. Keep your canolis crossed. UPDATE: Talos just learned that Panizzo's is closing for "renovations" soon. Hopefully these are renovations of the temporary kind and not "permanent" if you know what I mean.
What about you? Have any favorite restaurants that bought the farm? Feel free to add yours in the comments below. Misery loves company!