Triad Sub Review: Giacomo's Italian Market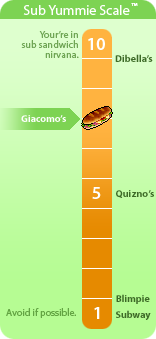 This week we'll be looking at Giacomo's Italian Market (North side) on New Garden Road. But before we get into that, I just wanted to share something special that happened in the two weeks in-between. Two of my longtime friends from college, Anna & David, visited Greensboro this past week, and they were good enough to bring sandwiches from our favorite eatery – Dibella's Old Fashion Subs. I've mentioned them before, but I had forgotten just how good they were. For the price of $7.50, you get a sub that is as long as your entire arm! The sub is packed with the best quality meats and cheeses and the bread is simply the most wonderful sub roll you'll ever eat. All of us at the Iconfactory were all amazed that even after a two day journey in a travel cooler, Dibella's still kicked the butt of any sub we have here in the Triad.
It is unfortunate that Giacomo's subs are being reviewed after the Dibella's visit, but that's the breaks. Since I've decided to use Dibella's as a yard stick for all reviews, I don't feel I'm being unfair. On with the review!
The Location
Even before Hugh recommended Giacomo's in the comments of the Penn Station review, I had wanted to try their subs for some time. I visited the High Point Road location when I first moved to Greensboro over a decade ago and remembered the market offering the freshest ingredients, although I don't remember actually having one of their subs. So when I visited the New Garden location a total of three times this week, I had high hopes.
Giacomo's is exactly the kind of small, mom and pop operation you might expect to see anywhere in New York or New Jersey. The New Garden Road Giacomo's has several tables out front for fair weather dining, and the interior is warm and inviting, if a bit cramped. The deli itself proudly displays all forms of delicious looking fare including home made mozzarella & tomato salad, marinated egg plant, and a wide range of stuffed olives. Giacomo's is probably best known for their traditional Italian sausages, meatballs, breaded cutlets and other staples. I've personally had several of the salads, various olives and even cooked up their meatballs. All of them are very good and worth a try if you get a chance.
The Subs
Unlike Penn Station, Giacomo's offers a wide range of cold, deli subs to choose from. During my various visits, I tried the Italian Stallion (salami, capicola & provolone), the Nicoletta (salami, hot capicola & fresh mozzarella) and the Paesano (marinated eggplant, salami and provolone). At Giacomo's one size fits all, so any sub you order is an 8″ hoagie on a crusty roll. All subs come with lettuce, tomato, onions and oil & vinegar. I didn't see any additional toppings I could ask for, which was disappointing.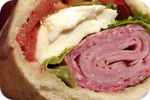 Both the Italian Stallion and the Nicoletta were similar in appearance and taste. The deli meats are top notch and unlike Subway or other sub shops I've been to recently, they are not shy with the amount they pack into the sandwich. I have to say that the bread is some of the best I've had anywhere. Its crunchy, but gives when bitten and does a great job of containing the sandwich without being overly doughy on the interior. My only complaint here is that the rolls themselves are small. When they say 8″, they really mean 6″ since the ends taper drastically and the contents usually don't spill out from the edges. The small size makes ordering a sub from Giacomo's seem more like an actual sandwich, which I was a little let down by.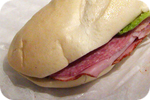 While the meats and cheeses used on their subs are top notch, the oil, spices and dressing they use don't seem unique and vary greatly from order to order. The Italian Stallion was heavy with dressing to the point that it tasted like commercial Italian salad dressing. By comparison, the Nicoletta had barely any oil and spices and allowed me to enjoy the fresh Mozzarella that they make on site. All three subs however, even the eggplant based Paesano, tasted similar to each other. It would be difficult to tell them apart in a blind taste test. I also did not get an opportunity to try one of their hot subs, like the Meatball Parmesan sub that Hugh recommended so whole-heartedly. Next time I visit I will give these hot sandwiches a try.
The Wrap Up
Its obvious from my few visits to Giacomo's that the owner(s) care a great deal about what they do. They have gone out of their way to provide their customers with top notch food that is both delicious and authentic. If there is a down side, its that to get this official taste of Italy, you pay a premium. The subs are all priced at $5.95 and while they do contain a good amount of meat and cheese, they are small and do not come with chips or a drink. Many people would say however that the extra price is worth it if for no other reason than to help support an independent Italian market in the Triad.
The two locations in Greensboro are convenient to get in and out of, and are pleasant to visit. The establishments are clean and friendly and constantly busy (always a good sign). I suspect however that Giacomo's is more appreciated for their behind the counter offerings such as sausages, salami, veal and cheeses than their subs. I give them full marks for baking their own, nearly perfect bread, as well as their homemade deli meats and cheeses, but something is missing. Since all subs come only with L,T,O O&V, most of them end up tasting nearly identical. This would definitely get old after only a short time. Standing head and shoulders above many other sub shops in the Triad, Giacomo's is a great Italian Market and a solid sub shop. Its not however, the hoagie nirvana I was hoping it would be, and so my search continues.
Have a special place in the Triad that you think serves up the best subs? Hugh sent me to Giacomo's and you can send me to my next destination! Post your suggestions in the comments thread and get my feet moving!