Greensboro Gets a Slice of Apple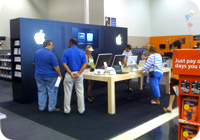 While we patiently wait for the new Apple Store to open at the Shops At Friendly Center here in Greensboro, a small bit of placation has appeared in the meantime. Yesterday when I walked into the Best Buy off of Stanely Road, low and behold part of the formerly all Windows PC section had been ripped out and replaced with an ultra-mini Apple Store. Right where Toshiba laptops, Dell desktops and other Microsoft loving hardware had stood was the familiar spartan trappings of Steve Jobs' retail store. It was like the Borg had sliced out a 15×20 foot section of the Southpoint Apple Store in Raleigh, and transplanted it directly into the middle of Best Buy, carpeting and all.
While a surreal experience, it was great to finally see someplace in Greensboro where Apple products can be purchased. Since we lost our local CompUSA back in December, if you wanted to pick up a new MacBook or iMac, you had to make the trek to Raleigh or Charlotte. The inclusion of Apple goods in Best Buy is an impressive about face for two companies that have not always been on the best of terms. I think mini-stores like this one in Greensboro are a testament to Apple's growing popularity and the strength of the brand. No matter what caused it, I'm just glad to see a tiny bit of Apple in Greensboro once again. Maybe now I can stop driving over to Friendly once a week to check on any signs of life. Nah!