Sci-Fi Cast Gets New Digs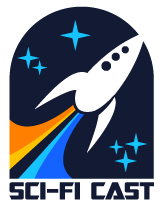 What started out as a fun idea born on Twitter has evolved into a full-fledged gig. How do I know this? The answer is easy young Padawan! Dave Caolo has been working overtime to get Sci-Fi Cast, our informal chat of all things science fiction, a new home and now it's ready. Point your browser to www.thescificast.com and you'll be on your way to a geek love-in not seen in these parts since the Pasadena Star Trek convention of aught '05.
To mark the occasion, this week I had the humbling honor to edit episode 007. I always knew editing a podcast was important, but after listening to the three of us ramble for an hour and a half, and somehow getting that down to just 20 minutes, I have a new found respect for those who choose to separate the wheat from the chaff and take the editing plunge. I hope you enjoy the result as we talk about Battlestar Galactica's seventh episode of season 4 – Guess What's Coming to Dinner? You can head on over and bookmark thescificast.com or download episode 007 right from here:
Download or listen to Sci-Fi Cast Episode 7 (19 min) here.
Currently, the ability to subscribe to the podcast via iTunes is broken while we wait for Apple to resolve the new site's URL. Just hang in there, it should be available soon. Since there is no BSG this week, episode 008 will be a very special "What we hate about the Star Wars prequels" episode. If Jake Lloyd, midi-clorians and Jar Jar Binks keep you up at night, this will be the episode for you!