Bless Him & Keep Him Safe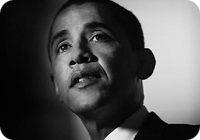 Media outlets are reporting tonight that Barack Obama has won the Democratic Iowa caucuses by a definite margin over his rivals Senator Hillary Clinton and John Edwards. I had been keeping my fingers crossed for Barack for months leading up to this night, but didn't dare to hope until all the votes were in. Although the true race for the 2008 Presidency is just getting started, this small victory for Obama is a signal of hope for all of us progressives that want to break the cycle of Bush/Clinton that this country has been caught up in for almost two decades.
I've admired him ever since his inspiring 2004 Democratic National Convention speech. Like so many other Americans, I'm ready for change in this country and for me, Barack is the very embodiment of what is possible. All eyes now turn to my home state of New Hampshire and then onto states like South Carolina, Florida and others. If Obama can continue to appeal to young, fresh voters and find his voice on matters like foreign policy and national security, he might just pull this thing out.
Yet, in the midst of my hope, I also feel fear. I fear for the safety of Barack Obama because of what he represents. He is a man with a background and upbringing that some twisted individuals feel threatens their patriotism or social status. These extremist views have no place in a true democracy, but I sense they might be heard by others who refuse to sit by while Barack ascends the ranks.
I pray to God that he will keep Mr. Obama safe under his mantle and help those who feel hatred towards him for racial or religious reasons, see Barack for what he really is… a person just like you and me. His family raised him with love and respect for other's beliefs, determination and a sense of self-respect that has given him unique vision. He is the embodiment of the American dream, a United States senator born to a Kenyan father and an American mother. He is a role model for young adults of all colors, religions and creeds, and he deserves a chance to show us how he would lead this country into the next decade. I only hope we all, every single one of us, give him that chance.