Doing the Impossible. Twice.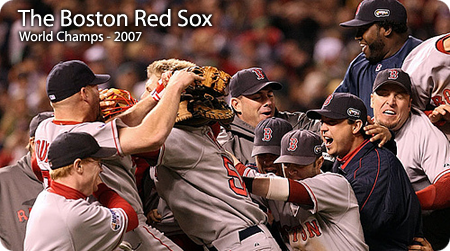 When the Red Sox won the championship in 2004, I felt a sense of satisfaction that I had never known before. When Boston came back from a 3-0 deficit to beat the Yankees in the ALCS I knew that all things were possible. The World Series against the Cardinals was just icing on the cake, it felt good, but the real "win" was beating the Yankees into a small, bloody pulp. Quite simply, it was every Red Sox fan's dream, and it felt goooood.
Sunday's night win against the upstart Colorado Rockies was a completely different animal. After Denver went down in game 3, in their very own stadium, I felt the series was over. Of course anything could have happened so I tried not to become too confident. My fears all melted away as Boston completed an impressive sweep in four games and ran away with their second world championship in four years.
I'd just like to say thanks to Manny, Big Papi, Lowell, Pedroia, Varitek, Ellsbury, Beckett, Papelbon, Francona and all the rest who played one of the best seasons of baseball I've ever had the pleasure of watching. The summer was filled with ups and downs, nail biting and celebration, and in the end you guys pulled it off once again. My parents and I thank you, as your efforts have given us cause to speak more often and share in the joy of your victories. I wish I was home in New England for the party that is going down. So, from this tiny little part of Red Sox Nation, here in North Carolina, congratulations! Now go and sign Mike Lowell, will you please?