Twitter Identity Transference Syndrome (TwITS)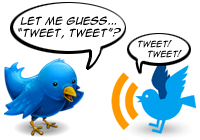 If imitation is the sincerest form of flattery, then the Iconfactory must be smelling of roses! It seems like every week there is a new application or mash-up announced to support that micro-blogging social network of choice, Twitter. This in itself isn't a big deal, in fact its wonderful since more third party apps means increased longevity for Twitter and its users. But lately I've begun to notice a strange trend with these applications. More than a few have made the design choice to base their identities around that of a blue birdie. Makes sense right? Twitter's logo is a blue bird, so it's just a skillful play on metaphors, right? The problem is that Twitter's identity is not a blue bird, it's a logotype.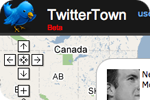 Over the past several months I've witnessed a strange kind of identity transference occurring within the Twitter community. Many people have come to associate the Blue Bird mascot of Twitterrific as representing Twitter itself. I've watched this unfold over time and I have to say it's fascinating. Since the launch of Twitterrific preceded the explosive growth of Twitter at the SXSW conference in early March of 2007, Twitterrific's icon (designed by David Lanham) was an easy symbol for people to identify directly with Twitter. David designed the bird as fun, visual play on the name "Twitter" and the birdie has helped the app become quite memorable. Several Twitter applications have taken the notion of the blue bird and flown with it including TwitBin, Twitterroo and perhaps the most direct usage courtesy of TwitterTown. We're actually honored that so many people have found inspiration from Twitterrific, both in its icon as well as its user interface.
The syndrome does have its downsides. Many people think that Twitterrific is the official Mac desktop client of Twitter, which it isn't. When people have problems posting via the API, they naturally think it's a problem with Twitterrific, not Twitter because they didn't post their tweet via the web, they posted it via the desktop. It is true that the relationship between any desktop application and Twitter itself is tight. It has to be for applications to function properly and give users the Twitter experience they are looking for. But when problems arise, fingers get pointed and they don't always aim in the right direction.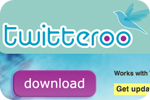 It can't all be peaches and cream for the gang at Twitter either. From their point of view, third party apps like Twitterrific and Twittervision support their efforts, but they also dilute their brand. There is a real danger of the proper noun Twitter becoming just a generic term that people will start to use as an adjective or even worse, a verb! Google is deeply entrenched in an effort to get users not to use its name as a verb for fear of its trademark slipping into the public domain. It has happened before with the trademarks Kleenex and Xerox and I can see it happening with Twitter all too easily. To their credit, the gang at Twitter has been very easy going about how their service's name has been used, and sometimes abused, all in the name of third party development.
There are always two sides to any coin. It's strangely satisfying that we have been able to inadvertently influence the look and feel of several Twitter based projects. We're delighted that Twitterrific has been so well received that others look to it as a kind of "Twitter template". The flip side is that in the minds of many people, our creation is one and the same with Twitter itself. As the lines blur between the Twitter service and all of its spin-off apps, at what point do all these cute blue birds pull a Hitchcock and end up scratching, pecking and biting the hand that fed them? Only time will tell.