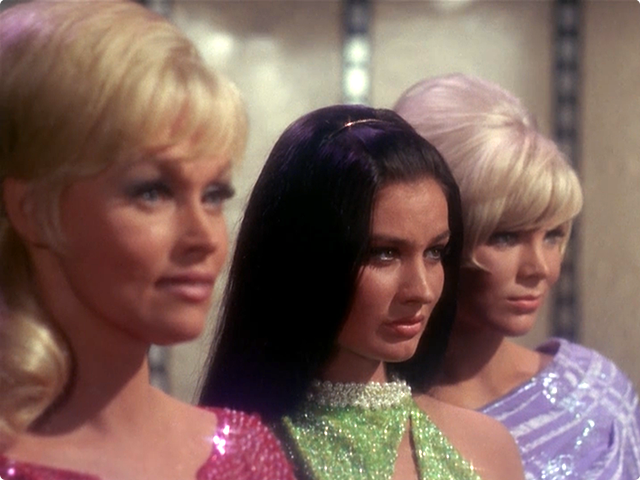 Our one perfect shot for 'Mudd's Women' introduces us to Eve, Ruth and Magda, Harry Mudd's traveling companions and "cargo" destined to become the wives of settlers on the planet Ophiuchus III. The bewitching trio are rescued from their damaged freighter and step off the transporter pad quickly ensnaring the male members of the Enterprise crew thanks to something called the Venus drug which creates illusory beauty. The episode is notable mainly for the introduction of the character of Harry Mudd himself who eventually returns to taunt the Enterprise crew in S2, Ep 12 'I, Mudd'.
I have to admit, selecting this one was child's play. It's a great example of how the series' production designers and directors portrayed many of the beautiful women who graced the small screen during the show's three year run. Be they exotic, alien femme fatales or capable crew members of the Starship Enterprise, women on Star Trek always seemed to have perfect lighting, makeup, hair and framing. They were also typically shot using a soft-focus filter to highlight the femininity of the actresses, a technique often used in 60's television but rarely seen today.
Tomorrow we find out just What Are Little Girls Made Of? and something tells me it won't be sugar, spice and everything nice.