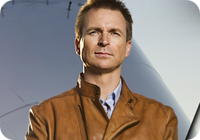 Season 15 of CBS's Emmy Award winning reality television series, The Amazing Race, beings this Sunday, September 27th at 8pm est. As usual, 12 teams will compete in a race around the world for a chance to win $1 million U.S. dollars and in the process explore new cultures, foreign traffic jams and maddening airport delays. I've been watching The Amazing Race since season one and despite an unchanging formula, it remains my favorite reality series ever.
This season's field of entrants include a pair of Harlem Globetrotters, former (now unemployed) executives for National Lampoon, a duo of professional poker players and the usual assortment of dating, engaged and married couples. Over at the Iconfactory, I start a pool at the start of every season of the Amazing Race to pick the show's winning couple. Judging these human books by their covers, one could easily pick Sam & Dan, brothers, to go all the way. They look like they're in good shape and they're brothers so there shouldn't be any unknowns between them. It'd be poetic justice to see the Globetrotters trounce the other teams on a world wide race, but something tells me they won't last beyond episode 5.
No matter who wins, I'm just happy that The Amazing Race has returned once again to fill my Sunday nights. The show is exciting, dynamic and this season promises to offer new, unseen twists and turns. I'm so addicted to TAR that I've been filling the down time between seasons with showings of The Amazing Race Asia. The show "can be found" on the tubes if you know where to look and offers much of the same frantic travel goodness as it's U.S. counterpart. It may not have Phil Keoghan, but the host obviously enjoys his job and the non-US centric cast and locations is a welcome change of pace. In the meantime, head on over to CBS.com and meet this season's teams, check out Phil's video diary and then be sure to tune in Sunday night for one wild ride. Remember, travel safe!