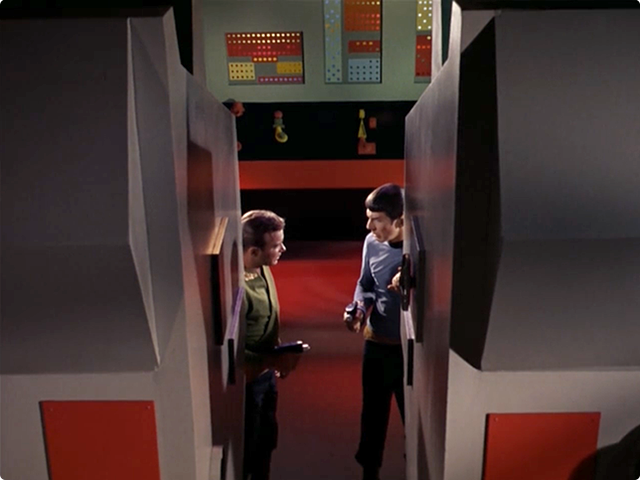 The Enemy Within is a dramatic examination of the human psyche and all the good and bad things that go along with it. When Kirk is split into two halves by a freak transporter accident, Jim quickly finds he can't function as Captain without the aggressive, animalistic nature of his opposite self. The episode is interesting on a number of levels, most especially how the interplay between the "big three" – Kirk, Spock and McCoy changes as Jim's assertive side wanders the ship in search of Saurian brandy.
As a kid, I always found episodes where the main characters behaved unusually the most difficult to watch and 'Enemy' falls squarely into this category. The normal, sure-footed Kirk is given to second-guessing every order as he slowly but surely turns into a mere shadow of his former self. Just as painful is the "evil" Captain who drinks, throws fits of uncontrollable anger and almost manages to rape Yeoman Janice Rand. To his credit, William Shatner does a remarkable job of making the two halves seem like completely different people. One smarmy and creepy, the other gentle and timid. Neither is our Captain however, and the quicker we get them back together, the better.
This episode's perfect shot comes as Kirk and Spock descend into Engineering to try and safely capture Jim's 'dark' self. I love how this shot is framed with the two characters conversing between the massive engines of the Starship Enterprise. There are many important duo's in Star Trek, the most beloved of which is Kirk and Spock. Here we see the pair working together yet again to save not only the crew but Captain Kirk's very existence. Trust me, it won't be the last time.
Next we find out if beauty does indeed come in a pill, courtesy of Mudd's Women.