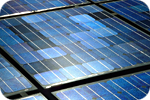 In what may turn out to be one of the best examples of timing in the last quarter century, researchers at Rensselaer Polytechnic Institute have made a major breakthrough in the field of solar energy. The scientists there have invented a coating that not only boosts the amount of light rays able to be absorbed by photovoltaic cells, but that also allows light to be absorbed from almost any angle.
An untreated solar cell only absorbs 67.4 percent of sunlight that strikes it. In terms of efficiency, this wasted energy is one of the major reasons why solar power has not had widespread adoption. Once a silicon panel is treated with the new coating, researchers say the amount of light absorbed is boosted to an incredible 96.21%. Not only that, but the energy captured was consistent across the entire spectrum of sunlight, from UV to visible light and infrared. Because of the wide angle of absorption, the discovery could instantly make panels that automatically track the sun obsolete. Non-automated panels mean less expense, more energy is harvested and solar power becomes more viable.
The best bit is that this discovery comes just as a new administration is about to take office. One of Obama's initiates as President will be to boost production of renewable energy sources including solar power. Rensselaer's coating most likely would have fallen on deaf ears during Bush's tenure at the White House, but now this new discovery could be a key component on road to U.S. energy independence. I love it when a plan comes together!