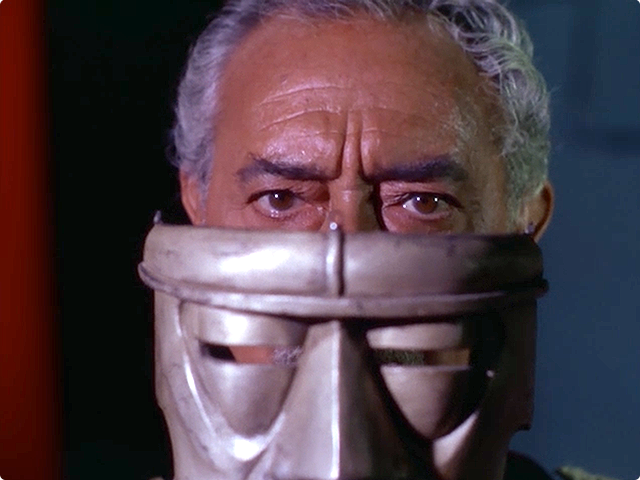 The Enterprise is called to Planet Q by Dr. Thomas Leighton, a research scientist and friend of Captain Kirk. Leighton's suspects Anton Karidian, the leader of a Shakespearean acting troupe currently on the planet, is, in fact, Kodos "the Executioner". Kodos was the former governor of the earth colony Tarsus IV, and was responsible for the massacre of over 4000 people—including members of both Kirk's and Leighton's families—20 years before. Kirk decides to take the traveling troupe of actors onboard and try and discover if Karidian is truly Kodos.
Our one perfect shot comes as Karidian performs Shakespeare's Hamlet on board the Enterprise, as he peers out from behind the metaphorical mask he's been wearing for the past twenty years. 'Conscience of the King' is a wonderful dramatic episode of Star Trek, one cited by writer and BSG creator, Ron Moore as one of his all-time favorites. There's a great deal of allegory in the writing and its connection to Shakespeare which makes it all the more compelling as a murder mystery.
Our next episode cleverly brings the deep-sea submarine hunts of WWII to outer space in The Balance of Terror.