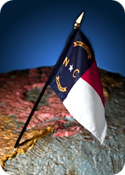 If you reside in North Carolina and are getting ready to vote in the 2008 elections, then you need to be aware of a potential problem that is giving both poll workers and voters alike, headaches. Due to an obscure law passed back in 1967, when you vote a so-called "straight ticket" (pressing the button on the electronic voting machine for all Democrat or all Republican), no vote is recorded for President of the United States or judges.
In order for your vote for President to count, you will have to manually select the candidate of your choice in addition to the straight ticket choice. A Daily Kos diary of a poll worker in North Carolina has outlined the problem and the worker personally saw at least 200 votes that were meant for one candidate not counted because of the confusion. Spread the word about this NC voting quirk if you can, the more people that sound the alert, the better.
Hat tip to David Miller for this post.