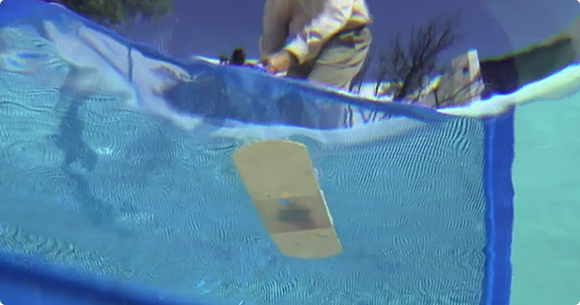 SPOILER WARNING: This post contains major spoilers for AMC's Breaking Bad. If you've not watched through the first half of season 5 and don't want to know spoil some of the major plot points, then you should really stop reading now. You've been warned.
The cult TV hit, Breaking Bad, wraps tonight on AMC in what is sure to be one of the best series finales ever to hit TV. I only recently started watching the series on Netflix and have come to appreciate the complex web of plot, character development, drama and awesomeness that is Breaking Bad. Watching the entire 5 seasons in a little over a month gives one a fresh perspective on the show that long-time fans may have missed, especially the subtle use of signs and symbols that are a favorite of the show's creator, Vince Gilligan.
One of the re-curring symbols that shows up in Breaking Bad is water, and more specifically swimming pools. Chemistry teacher turned master meth cook, Walter White, has one in his backyard and throughout the show's run, action frequently takes place in and around these small aquatic jewels. Fans of the show know that the pools themselves often portend ominous happenings in the world of Breaking Bad. In fact, I don't think I can recall a single scene where people were actually having a good time in a swimming pool in the entire 5-year run of the show. No, in Walter White's world swimming pools and the water that fills them represents something else entirely and it's the single plot point that propels the show.
There are lots of different interpretations of what swimming pools mean in Breaking Bad, but the one that is the most obvious, indeed the one that hits us over the head by season 5's "Fifty-One" is that they are a metaphor for Heisenberg's blue meth. In the S3 episode 'Caballo Sin Nombre' we see Walt fish a bandaid out of a swimming pool (see above). Walt's always been a problem solver as well as a perfectionist and this small scene I think highlights Walt's need to always improve his addictive product. He's forever trying to keep contaminants out of the cook, something we're reminded again just a few episodes later in "Fly". It also symbolizes his desire to keep his family clear and "clean" of his seedy, second life.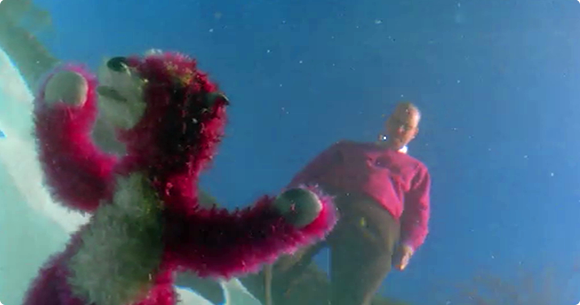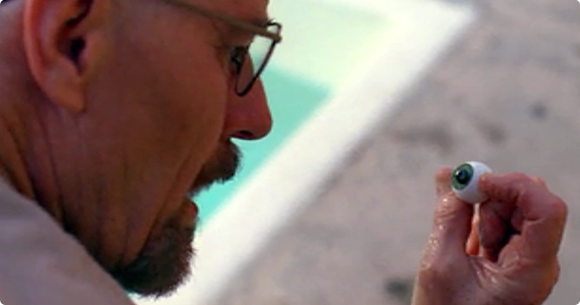 Then there is the air disaster that marks the brutal end of season 2 when Jane's father and air traffic controller, stricken with grief over losing his daughter to a drug overdose, accidentally collides two passenger jets in the skies over Albuquerque. The image of the pink bear haunts us in the cold opens for most of season 2, a horrible reminder of the unforeseen consequences of Walt's actions.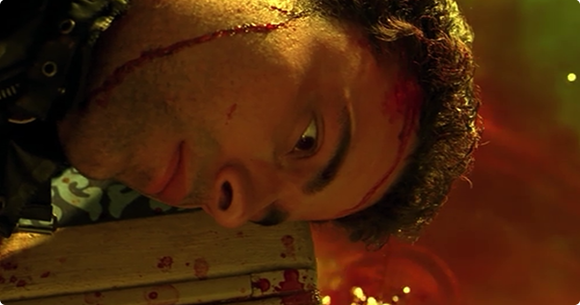 In season 4's 'Hermanos' we visit the lavish home of Mexican drug lord Don Eladio. The home once again features a swimming pool that soon features prominently as the final resting place of Gus Fring's partner as he's laid waste by the ruthless cartel. In an ironic twist of fate, this same swimming pool becomes the tomb of Eladio as Gus returns to Mexico in S4's 'Salud' to exact revenge on those that killed his friend. The drug cartel reaps what it sows as we see lives slip away in the cool, blue waters.
Gillian also slips subtle references about the symbolic blue meth into the show's dialog in several episodes including S5's 'Dead Freight'. When Walt, Jessie and Mike plan to heist hundreds of gallons of methylamine, the crucial chemical needed to cook meth, Lydia explains that the train they'll be hitting holds enough of the compound to "fill a swimming pool."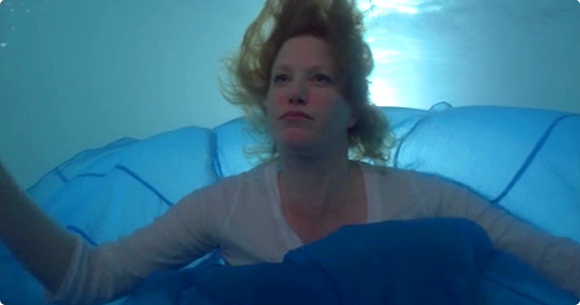 Lest there be any more doubt about what pools represent, we have S5's incredible episode 'Fifty-One'. The entire White clan gathers to celebrate Walt's fifty-first birthday poolside. As Walt talks to his in-laws at a nearby table, his wife Skyler stands staring into the bright blue water, filled with dispair. She fears for the safety of herself and her children because of the monster her husband has become. As Walt speaks, Skyler slowly steps, fully dressed into the family pool. She descends to the bottom, floating like an angel in the cool water, literally drowning in the blue poison Walt has forced upon her and her family. Her sister and brother in-law beg her to get out, to save herself but they're voices are muffled by the water and Skyler's contentment with her plans to get her children out of the house and to safety.
There are lots of other examples of the meth/pool symbolism in the series, but one of my favorites is the cold open for S5's 'Blood Money'. In a flash forward, Walt, deposed from his drug lord throne, returns to his condemned home to find his house in ruins. He watches a band of kids use his now empty swimming pool for skateboarding. He stares helplessly as strangers run rampant on his former property, his crystal-blue empire has turned to dust and he his powerless to stop it.
I love symbolism in television and films. Clever use of symbolism adds depth and meaning to storytelling and Breaking Bad has been one hell of an awesome story. I still have a few episodes to go before tonight's finale (hopefully I'll catch up in time!) but I hope this small insight into the shimmering blue waters of Walter White's world has increased your appreciation for what Vince Gilligan and his Breaking Bad team of writers has given us these past five seasons. I for one am glad I decided to dip my foot in Breaking Bad's pool.