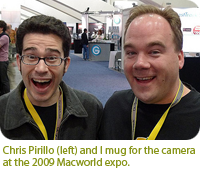 Unlike most of the people I follow on Twitter, Macworld 2009 was my first expo in many years, and the only one where I've been one of the exhibitors. The week was fun, exciting and a lot of work. Now that I'm back home in Greensboro, I thought I'd impart some of the knowledge I gained during my experience. In no particular order, here are a few of the many things I took away from my trip to Macworld 2009:
• Expo food is over-priced – Ya know how they charge like $4.00 for a bag of popcorn at the movies? Macworld is like that but a x1000 worse. A pathetic bologna sandwich and a bottle of water came to $12.50.
• Floris Natural Benefits Soap – The Intercontinental San Francisco had some of this product line in our room and I couldn't get enough of it. I must try and track down the Jabon hand soap for use at home!
• Craig has groupies – I mean I knew people loved Craig, but I didn't realize they would actually wait in line to talk to him. Every day on the show floor was filled with people waiting to chat with Mr. Hockenberry, they just couldn't get enough of him. All of that attention made me realize just how proud I am to be able to work with him.
• Mel's Diner has the best lemonade – I've drank a lot of lemonade in my time, but the lemonade I enjoyed at Mel's during the expo was, without a doubt, the best I've ever had. In my life. The perfect blend of sweet and tart that should not be missed.
• Chairs are precious – Our kiosk at the show only had one chair. I was told that to rent another for the week it would have cost $200. After spending almost 7 hours on your feet $200 didn't seem that bad. When some bastard stole our one chair on Friday morning, we almost had a freak out. Luckily Travis was able to procure another in short order.
• Rickshaw computer bags – New product. CEO and owner gave me a demo of the bag and had me sold at like the 5th feature. If you are in the market for what could be the best computer bag you'll ever own, check them out.
• Basil Thai on Folsom – Of all the wonderful places we ate while at Macworld, this little restaurant on Folsom Street was the best. From the appetizers to the wonderful desert and everything in between, it was to die for. Ged gives Basil Thai 5 stars!
• Meeting people – By far the best part about Macworld was simply meeting everyone. Tweeting with people is great, but Macworld reminded me that face to face contact can't be beat. I met so many awesome people at the expo I can hardly keep track of them all. I especially enjoyed meeting the TUAW crew including Mike Rose, Christina Warren and Nik Fletcher. Other notable Mac heads I met during my week in San Fran included: Arlo Rose, Dan Moren, Rick Yaeger, Chris Pirillo, Rich Seigel, Michael Simmons, Scott McNulty and Arne Fismen.