MINOR SPOILER WARNING: This post talks about general character direction, minor plot points, settings, etc. for Fox's Gotham. If you know Batman lore, then you're probably safe to read on, otherwise head back to the Batcave.
I consider myself a superhero fan, but not a super-fan. That is to say my love of the genre comes more from movies and TV than it does from knowing every little detail about a particular character's origin, backstory and development. I haven't read Batman comics since I was a kid and I don't play the Batman video games. Perhaps these are some of the reasons why I'm enjoying Fox's new show – Gotham so much. The show takes place in its name-sake city, just after the brutal murder of Thomas and Martha Wayne and plays out like a gritty crime drama in the biggest, grittiest metropolis of them all, Gotham City.
Like Smallville that tracked the formative years of Clark Kent on his road to becoming Superman, Gotham gives us a sneak peek inside the young mind of Master Bruce Wayne, his guardian Alfred, Detective Jim Gordon and host of future super-villains that will one day make life a living hell for the denizens of Gotham. The comparison to Smallville ends there however. As is true so often, Batman's story is far more interesting than Superman's ever hoped to be. I'm a HUGE Superman fan but for some reason I could never could get into Smallville. On the other hand, Gotham has me firmly in its grasp. There are a bunch of reasons for this and I just wanted to outline a few of them here for people who are thinking about watching but who are rightly skeptical. The show just had its mid-season finale which, if you've not watched so far, is a great time to dive in and catch up.
Young Bruce Wayne & Alfred
Without Bruce Wayne, there's no Batman and even though Gotham certainly plays out like a crime drama, full of colorful criminals, crooked cops and political corruption, at its heart the story is about how Bruce eventually becomes the Dark Knight. Perhaps more than any other entry thus far, Gotham gives us a unique insight into the mind of the recently-orphaned Wayne and what makes him tick. From the comics (and countless portrayals in movies & TV) we know Bruce's parents are killed in front of him in cold blood, but from there we typically jump years ahead, learn how he discovers the Batcave, travels the world training in martial arts and eventually returns to Gotham to don the familiar cape and cowl… and that's it.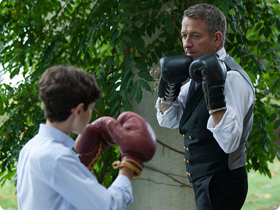 With a weekly TV series like Gotham, writers have a unique opportunity to explore Bruce's character like never before and show us why he changes from that frightened kid in the alley to the powerful, dark vigilante he's destined to be. Bruce becomes obsessed with finding the person who not only killed his parents, but also learning about the crime network that made it possible in the first place. He quickly realizes he has the resources to keep tabs on just about everyone, laying the foundation for becoming a master detective in the process. He also begins to test himself, holding his breath in the family pool for as long as possible, balancing precariously on railings and more so he can become stronger both mentally and physically.
Perhaps most importantly, his legal guardian, the loyal Alfred, is there every step of the way to protect him and try and help him make sense of the tragedy that surrounds him. In subtle ways, Alfred unknowingly guides Bruce to become his future Bat-self. When Bruce is bullied at school, Alfred not only teaches him how to physically defend himself, but also makes it directly possible for Bruce to confront his attacker. All of these scenes give depth and meaning to the familiar struggles Alfred endures as Bruce fights for his life as an adult. In the universe of Gotham, Alfred has become the ultimate enabler and in my opinion, it's the single best reason to watch the show.
The Rogue's Gallery
Another awesome aspect of Gotham is the entire ensemble cast of characters and getting to explore the intricate web of relationships they have with each other, and ultimately Batman. The show's primary focus on the fresh, young Detective, Jim Gordon is appropriate and Ben McKenzie does a fine turn as does Donal Logue as Gordon's partner, Harvey Bullock. Gordon is the one good cop in a bad city which makes the monumental task of cleaning up Gotham seem even more impossible. There are crime bosses like the delightfully villainous Fish Mooney played by Jada Pinkett Smith, and of course Oswald "Penguin" Cobblepot played wonderfully by Robin Lord Taylor who steals more scenes than a pickpocket steals wallets.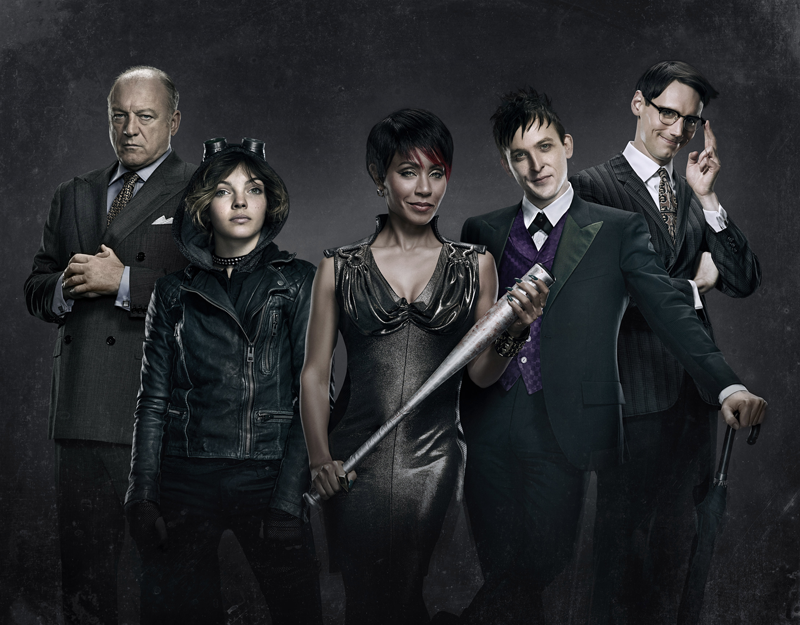 There's a corrupt mayor, police commissioner, hired mercenaries and an odd assortment of crazies that Gotham just seems to breed like some twisted, evil puppy mill. It's easy to see why the city needs a protector but until Bruce comes of age, Gordon must fill the role for the time being. Sometimes Gotham hits us over the head one too many times with the name of a character just to make sure we "get" who they are, but it's a concession I'm willing to grant them at this early stage in the game.
Overall, the interplay of the large cast of characters is interesting and contains enough twists and turns to keep us guessing, which I like. I'm also looking forward to Morena Baccarin joining the cast as Dr. Leslie Thompkins after the mid-season break. Dr. Thompkins is an important figure in Gotham lore and should provide some much-needed matriarchal balance in Bruce's tumultuous life. If there's one criticism of the cast of characters, it's that the producers rely a bit too much on the comics. I like meeting characters I'm not familiar with that have been created specifically for the TV show like Fish Mooney. Not every bad (or good) guy has to come from the comics.
Production Design
From the cavernous Gotham PD interior, to the on-location shooting in and around New York City, to the thoughtful costume design and especially the amazing CGI long-shots of the city's waterfront, the visual design behind the Gotham is inspired. Perhaps more than any other TV show I've watched in recent memory, Gotham seems like an actual place. The city feels epic in scope and situated just perfectly between retro and modern styling (there are no smartphones, flat-panel monitors, etc) for today's television audiences.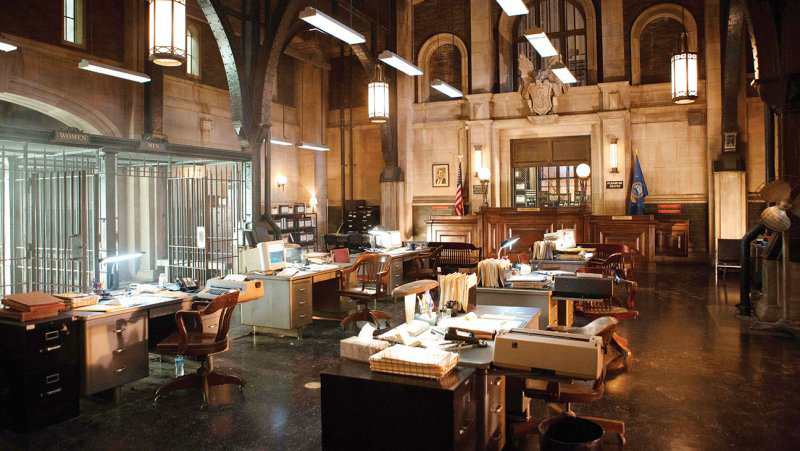 Each week, Gotham looks and feels more like a film than a TV show. It also manages to strike a great balance between shots designed specifically for television but inspired by the comics. The city itself feels huge and sprawling and a character in its own right, which was one of the things I loved most about Twin Peaks, and that's a good thing. I especially love the long, sideways tracking shots that give us glimpses down between the city's towering buildings. The CGI and lighting in these shots is masterful and totally realistic. Gotham's top-notch production design sets it far above other superhero TV entries like Lois & Clark, Smallville, and Arrow and makes the stories that much more convincing. In fact, I'd go so far as to say only Agents of S.H.I.E.L.D.'s universe feels as fully realized as Gotham's.
Conclusion
There are lots of great reasons to watch Gotham, but perhaps the best one is that the show manages to make perfect sense of the fantastical world of Batman. Watching the stories unfold and seeing how the characters evolve from week to week brings info focus the incredible mythos that is the Dark Knight. Bob Kane created a wonderful character in Batman 75 years ago, but in all that time we've really only learned a little about what motivates Bruce Wayne to do what he does as well as those who surround him. Fox's Gotham shines a bright light in that dark corner of the comic book world and the results are fun, unexpected and visually stunning. I only hope the show lasts long enough to watch Bruce grow up into the hero he's destined to be.