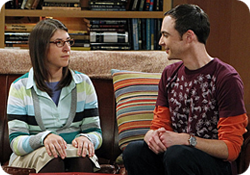 My favorite television comedy, The Big Bang Theory, returns to TV on Thursday, Sept 27th on CBS. To get ready, I've been going back and re-watching many of the season 4 and 5 episodes that I love the most. The Alien Parasite Hypothesis (the one where Amy gets the hots for Penny's friend Zach) and The Shiny Trinket Maneuver in which Sheldon buys Amy a tiara as a transparent attempt to sooth her relationship anger (the ep earned her an Emmy nomination) are two stand-outs. As the series has progressed, my favorite part of the show has morphed from watching the male leads interact to the relationship that has developed between the three female leads – Penny, Amy and Bernadette. The way Penny and Bernadette adopted the socially awkward Amy into their group is adorable, as is the crush Amy has on Kaley Cuoco's character, Penny.
Of all the relationships Big Bang has featured, I think the Sheldon / Amy duo has to be the best. They are two wallflowers who are brilliant in their respective fields but who are children when it comes to their emotions. This has changed over the course of the show as the writers took definite steps to move Sheldon & Amy's (Shamy for short) relationship forward. Over time, Sheldon has elevated Amy from a "Girl who happens to be his friend" to his actual girlfriend. In the season 5 finale, Sheldon incredibly took Amy's hand as they watched their friend Howard boldy travel into space. If you are a fan of Big Bang, this moment probably gave you goose bumps as it did me.
I love The Big Bang Theory because I can often relate to the geeky jokes and situations the writers create for the characters. The show is ripe with Star Trek, comics and video game references, but it is the characters and their relationships that give the show the deep, emotional satisfaction I love so much. Like many fans, I've been rooting for Sheldon Cooper and Amy Farrah Folwer to get together, and I believe that one day they will.
In a wonderful season 4 interview between Jim Parsons and Mayim Bialik, they reveal their working relationship, how they prepare to film a script and that they too are rooting for their characters to make it. Often times we as fans forget that an actor ultimately doesn't have the final say in what happens to the characters they portray, the writers and producers do. If any of the show's writers are reading this, all I can say is keep up the great work. We love how Amy & Sheldon have grown closer towards each other and we want more. Just not too fast, getting there is more than half the fun! Tune in to the season 6 premiere of The Big Bang Theory on CBS on Thursday, Sept 27th. Go Team #Shamy!