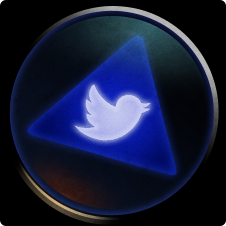 Magic 8-Ball, it's been a while but I have some questions about Twitter's recent blog post. You know, the one where they talked about "stricter guidelines" for how the Twitter API is to be used by third party apps. Since Twitter isn't talking, I was hoping you might be able to clear some stuff up for me. Can I ask you some questions now?
Yes
All this talk about stricter guidelines and a "consistent Twitter experience" seems pretty ominous, should developers of 3rd party Twitter apps like me be worried?
Reply hazy, try again
I mean some people are calling Twitter's non-announcement a "bombshell". Are things really that bad?
Better not tell you now
What do you mean? Are you saying that 3rd party apps are about to become extinct or that Twitter just wants each app to display the timeline in a similar fashion?
Concentrate and ask again
I know Twitter's got to start making serious money to pay for it's massive overhead, are we talking about ads in the timeline?
Outlook good
If we're talking about ads, I can deal with that. I'd rather have promoted tweets in Twitterrific than being forced to stop developing it completely.
What about expanded tweets, will Twitter force us to build some form of them into our apps?
Signs point to yes
If we don't, do you really think Twitter would restrict API access and hang 3rd party apps out to dry?
Better not tell you now
That's very comforting, thanks.
Don't you think Twitter's users would revolt if they took away our Tweetbots, Hibaris and Twitterrifics?
As I see it, yes
Damn straight they would. There are many developers and companies who have build their livelihood around the Twitter API since 2007. We even helped Twitter evolve and grow to where it is today. Are you saying none of that matters now?
Without a doubt
Frak.
Some developers are already suggesting we start creating a web-based, open alternative to Twitter using something like RSS. Would that really work? Would users really switch away from Twitter for a grass-roots service?
Don't count on it
Do you think it's a good idea for developers like us to keep coding away on their apps for now?
Most likely
Could the folks at Twitter have done a better job with their blog post to help stop the spread of paralyzing FUD?
It is certain
You really haven't been much help to me. One last question…
Is the golden age of 3rd party Twitter apps over?
Ask again later
Meh! What do you know, anyway!