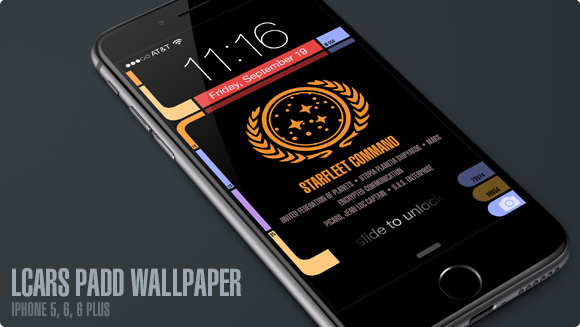 UPDATE: Both the iPhone 6 and 6 Plus versions have been updated to correct some minor alignment issues, took a shot at a version for Windows Phone as well as added a new more "authentic" Next Gen color scheme to choose from.
If you enjoy Star Trek as much as I do then you'll love these free, Next Generation mobile wallpapers I designed for use with iOS. I've updated my original LCARS Star Trek lock screen for the brand new iPhone 6 and 6 Plus so you can be the geeky envy of all your friends. For those of you still running the smaller iPhone 5, don't worry, there's even a version here for you!
I've been a huge fan of Star Trek Production Designer, Michael Okuda since day one and this project was my way of saying "Thank you!" for the wonderful, futuristic operating system that Next Gen fans know and love as LCARS. With the iPhone 6 Plus approaching the size of actual padds from Next Gen, it only made sense to bring this amazing aesthetic to the palm of our hands.
How to download and apply the wallpapers on iOS 8:
1) Click to view the wallpaper that best fits your device:
• iPhone 5 Series – Original / TNG Colors / Janeway Alt / Janeway TNG
• iPhone 6 – Original / TNG Colors / Janeway Alt / Janeway TNG
• iPhone 6 Plus – Original / TNG Colors / Janeway Alt / Janeway TNG
• Windows Phone – Original / TNG Colors
I don't own a Windows Phone and make no promises about how this version will work for you. These are provided as is!
2) Tap & hold on the image in mobile Safari & save it to your photo library
3) Open Photos, view the image then tap the Share button in the lower left
4) Scroll to the right in the Share menu and tap Use as Wallpaper
5) Pinch Zoom OUT on the image to size it exactly to the screen
6) Turn Perspective Zoom OFF
7) Tap Set > Set Lock Screen
That's it! Sleep/lock your iPhone and the next time you activate it, you can pretend you're Captain Picard himself receiving an important message from Starfeet Command. I hope you enjoy this fun treat & help spread the word via Twitter and Facebook. Engage and enjoy!
UPDATE: I've added 6 new variants of the lock screen for iPhone after a request from @keydiehhurst. Available in both original and TNG color schemes, these variants address the communique to fearless Captain Kathryn Janeway in the Delta Quadrant. Safe journey, Captain!