Guest Judging Food Network's 'Cake Wars' Was a Sweet Treat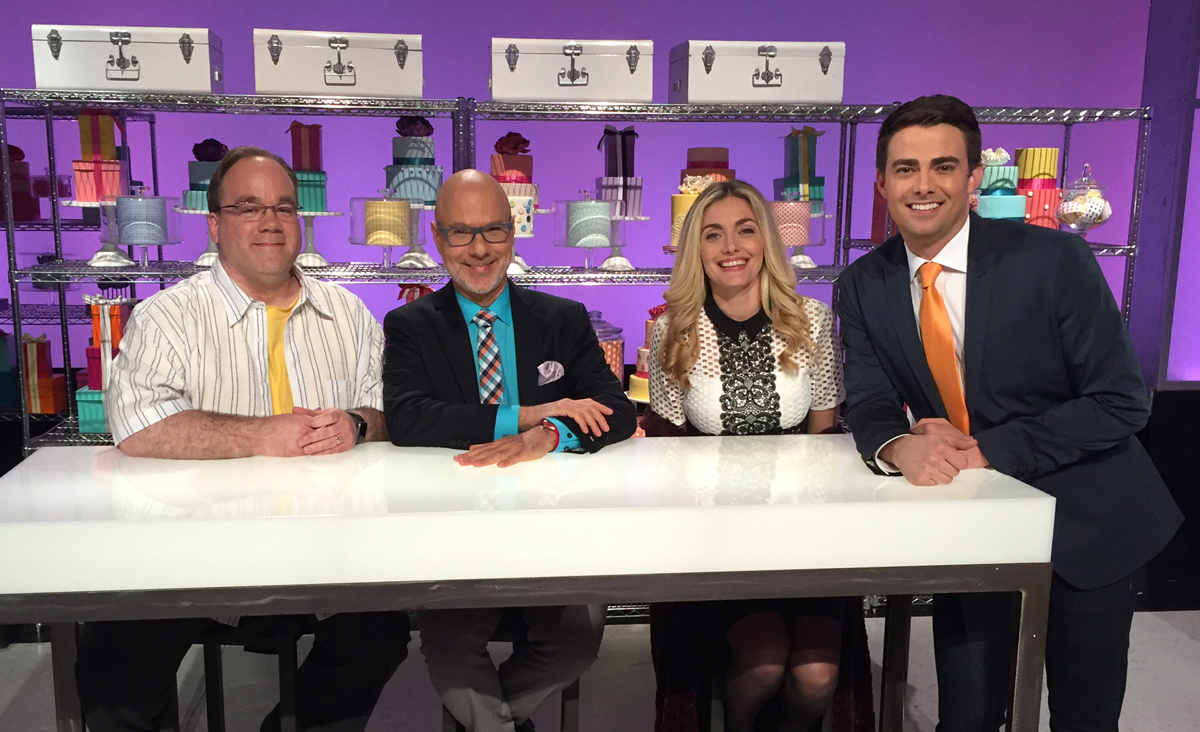 Pictured L to R: Myself,
Cake Wars
regular judges Ron Ben-Israel and Waylynn Lucas with host Jonathan Bennett
In my career as an icon artist I've had the privilege of working on tons of great projects, meeting fascinating people and participating in lots of wonderful events. This past March however, I was invited to appear on the Food Network's reality baking competition, Cake Wars, as a guest judge and quite simply, it was an adventure of a lifetime. The theme of the episode I was to appear on was emoji, something I've become intimately familiar with these past few years. Needless to say when we received a request for one of us to fly to L.A. and participate as a judge I nearly fell out of my chair. From start to finish, my experience on Cake Wars was fantastic and so I just want to share some of those experiences with you.
The Journey
I've been a fan of reality TV cooking competitions for years with shows like Top Chef, Hell's Kitchen, The Great British Baking Show and more recently Food Network's Chopped and Cutthroat Kitchen. Over the years I've considered applying to a few of these shows in the hopes of showing off my amateur cooking skills but had never gotten off my butt to do it. So you can imagine how amazing it was to ultimately be sitting at the Cake Wars judging table next to the incredibly talented Ron Ben-Israel and Waylynn Lucas.
From our initial email exchanges to arranging the trip, all of the people from Super Delicious, the company that produces Cake Wars for Food Network, were positively wonderful and made my time on set a joy. My first surprise happened as soon as I stepped out of the car on the Cake Wars lot. Ron Ben-Israel had also just arrived and he immediately came over to greet me outside the main door. He stepped right up, introduced himself and said "You must be Gedeon!" As we entered the building, he proceeded to tell me all about myself, where I went to school, some of the projects I've worked on over the years and even how long I've been at the Iconfactory. "You see Gedeon, I do my homework!" The sheer fact that Ron warmly greeted me and knew all about me was such a thoughful way to be welcomed to the set that I could hardly believe it.
All throughout the day, Ron helped me to know where to look for the camera, gave me speaking tips and even signed an autograph for me which I now have hanging on my desk at work. He even took time to answer any and all questions I peppered him with like how he makes the incredible buttercream for his award-winning cakes! In exchange I showed him how to receive animated emoji on his iPhone and tried not to gush over sitting right next to him *too* much. I'd be remiss if I didn't say for the record that Waylynn Lucas and host Jonathan Bennett were also both super nice to me as were the entire crew of over 60 people. It was easy to see they had all done their jobs dozens of times before and knew where they should be, how to speak, what the director was looking for and more from the start.
Judge's Table
If you've ever watched TV and wondered what it must be like to sit behind the judge's table to critique culinary creations, let me try and set the scene. Cake Wars is broken down into two rounds; a smaller initial round where one of the four contestant teams is eliminated at the end and then a big, show-stopping round with the winner receiving a $10,000 prize. I'm not going to spoil the episode and tell you who won (you'll have to watch to find out) but I will say that watching the bakers work and tasting their creations was a privilege. Both Ron and Waylynn warned me to be prepared to taste both great and not-so-great cakes and naturally they were right. Some were moist and delicious, some were flavored perfectly and some were so sweet they made my toes curl.
All of the cakes arrived at the judge's table via production assistants with perfectly cut slices, meticulously arranged on white flatware in front of me. Needless to say I took great care when handling my fork and made sure to take my time, taste everything and made mental notes on each as I went. Thankfully the producers explained my primary concern was to critique the overall design and visual appeal of the cakes, how well they conformed to the emoji theme of the challenges and if they had been executed well or poorly. Since I'm not a food critic I gratefully kept the majority of my comments focused on the designs of the cakes. The contestants seemed to appreciate my feedback through the various rounds.
Behind the Scenes
Between rounds, each of the judges had the opportunity to retreat to their dressing rooms while the contestants baked. The final round happens over the course of 4 hours and so there's a lot of work on set for the contestants to get their show-stopping cakes completed before time expires. The production assistant explained to me they would come and get all of us for the final 30 minutes of baking but I asked if I could stay in my seat and watch while they worked. She allowed me to remain on set and I'm so glad I did. Not only did I get to see the inner workings of the show and how it's filmed but I also was able to ask one of the floor directors a bunch of questions that he graciously answered.
One thing I asked was if the producers look forward to "food disasters", i.e. when cakes fall or major mistakes occur on set. His answer was telling. He explained that of course most producers will say they think these unplanned problems make for great TV, but they also tend to push the production schedule later in the day, sometimes much later and that's bad. Things have to be re-filmed, stations reset and it just throws a monkey wrench into the works which wastes time, money and makes the entire production crew cranky. Ultimately he explained that Food Network wants the contestants to succeed in their efforts and produce the best cakes they can so in reality, it's better to have everything go as smoothly as possible in the end.
That's a Wrap
From the moment I stepped onto the studio lot, just like the emoji I was there to judge, I wore a huge smile across my face. To say I was honored to be a part of Food Network's Cake Wars emoji episode just doesn't do it justice. It was quite literally a foodie's dream come true to be able to travel to L.A. and participate in judging these amazing cakes from talented bakers across the country. One of the teams however was much closer to home than I ever suspected.
I learned just this week that one of the teams I judged is based right here in Greensboro, NC! I went to visit Taylor Kisselstein at Easy Peasy Decadent Desserts and ordered a dozen cupcakes (emoji of course!) for the viewing party I held at my home the night the episode aired. Thanks, Taylor!
When I think back on my experience I will always remember the excitement of being on the set, but I also warmly recall the people, especially Ron Ben-Israel. He is a professional in every sense of the word with an amazing talent for baking positively beautiful cakes. I've spoken with him a few times since filming and even now he continues to be just as warm, gracious and helpful as he was that day and has even encouraged me to audition for Chopped! To him, and all the other members of the cast, crew and production team, and to everyone at Food Network, thank you for having me on the show. It was an experience of a lifetime that I will never forget.
The Emoji episode of Cake Wars is available for purchase via iTunes. Enjoy!
Miscellaneous Thoughts & Observations
• Each of the judge's chairs have a leather pouch hanging from the back of the seat for their cell phone should they wish to keep it handy but not on their person during filming
• The feeling you get when you see your own name on a dressing room door is just as amazeballs as you can imagine
• Ron Ben-Israel used to subscribe to MacAddict Magazine & was a huge Mac gear head back in the day
• Multiple people on set told me the "Minecraft" ep of Cake Wars was… challenging to film
• Each baking team has its own "story producer" who encourages them on set to be energetic, enthusiastic & speak clearly during the course of filming
• If all teams are in the weeds and are behind, the producers have been known to give them extra time to complete their cake creations
• Almost all of the judge's dialog is unscripted. In contrast, nearly 100% of host Jonathan Bennett's dialog is written for the camera. The script is edited in real time and constantly finessed and adjusted as events unfold during filming
• Fraternizing with the contestants prior to filming was strictly forbidden. Also, if one of the contestants approached me before filming began I was supposed to let the powers that be know O_o
• Having to eliminate people from possibly winning a $10,000 prize really stinks
• Awarding a $10,000 prize to a talented cake artist is incredibly awesome and more than makes up for the former 🙂