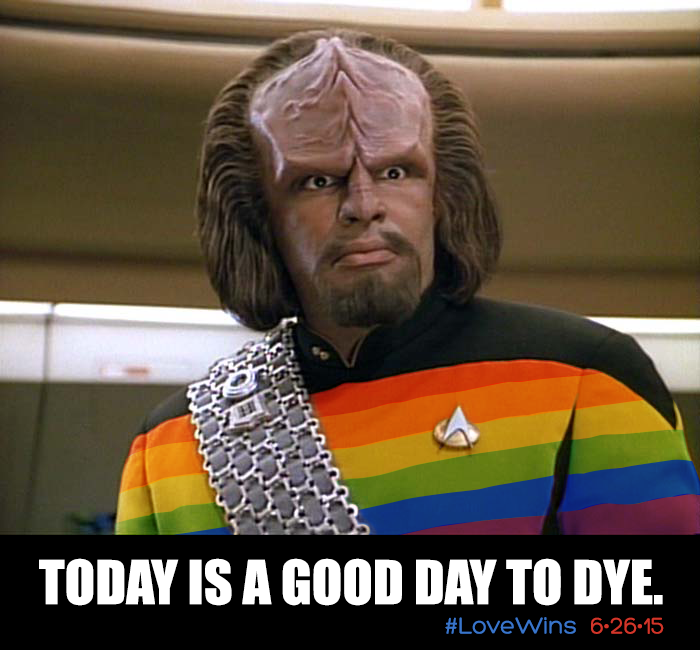 Yesterday the Supreme Court of the United States, in a 5-4 decision struck down gay marriage bans in 14 states effectively making it legal for gay and lesbian couples to finally marry throughout the nation. The announcement sent ripples of rainbow-colored hope throughout the country and on social media. The hashtag #LoveWins quickly spread through Twitter and Facebook and people started updating their online avatars with the bright colors of the gay pride movement in a show of solidarity that I won't soon forget.
I created the fun image above to help celebrate the historic announcement. Star Trek has always meant so very much to me, and like millions of others who grew up enjoying its themes of peace, diversity and tolerance, the image of proud, honorable Worf standing with his brightly colored rainbow uniform just seemed perfectly appropriate. I also love a good pun and hence I made it sew (see what I did there?).
On a more serious note, the momentous events of this week still have me in a hope-filled, optimistic daze. Obamacare being upheld for some 6 million Americans who rely on it for health insurance was much welcomed news but then the Supreme Court finally recognizing gay people's right to marry was the proverbial icing on the cake. This has been a long, long time coming and there are some who didn't think it would happen in their lifetime.
For opponents, the SCOTUS decision on gay marriage represents an unlawful power grab that defies the Constitution, but for the majority of the nation and the court, it represents just the opposite. The Equal Protection clause of the 14th Amendment guarantees that all US citizens are to be treated equally from state to state. Justice Kennedy's closing paragraph stands as a pillar of legal and moral truth that gave me goose bumps when I read it:
"No union is more profound than marriage, for it embodies the highest ideals of love, fidelity, devotion, sacrifice, and family. In forming a marital union, two people become something greater than once they were. As some of the petitioners in these cases demonstrate, marriage embodies a love that may endure even past death. It would misunderstand these men and women to say they disrespect the idea of marriage. Their plea is that they do respect it, respect it so deeply that they seek to find its fulfillment for themselves. Their hope is not to be condemned to live in loneliness, excluded from one of civilization's oldest institutions. They ask for equal dignity in the eyes of the law. The Constitution grants them that right."
In their decision, the court didn't construct a law giving gay people the right to marry, they simply struck down the state laws that were keeping Americans from being treated equally under the Constitution. They re-affirmed gays rights to life, liberty and the pursuit of happiness that the rest of us sometime take for granted. For the religious-minded among us, the court was reminding everyone of the age-old proverb, do unto others as you would have them do unto you. Return kindness with kindness. Respect with respect and love with love. What a wonderful time to be an American. Today is indeed a good day to dye.