News today that some businesses have begun disabling the NFC readers in their retail locations so as block customers from using Apple Pay. When I read this, I have to say it filled me with rage. I don't yet own an iPhone 6 or 6 Plus, but I will soon and one of the reasons why I've been looking forward to owning one is the secure, easy transactions that Apple Pay represents. Now we learn that a group of merchants wants to introduce their own payment processing system, one that favors the merchants by eliminating credit card fees, but is most likely far less secure, and most certainly more difficult or confusing to use.
If you're an iPhone owner who's as upset as I am, I've designed this helpful flyer that you can print a stack of and hand to the clerk at CVS, Rite Aid or anywhere else that refuses to accept Apple Pay. Simply put, you're telling them that you're going to take your business elsewhere until they come to their senses and accept your money via Apple Pay. Why any business owner would actually refuse a customer's money in this economy is bewildering to say the least, but we need to let the corporate owners know we have choices and we chose not to give them our money.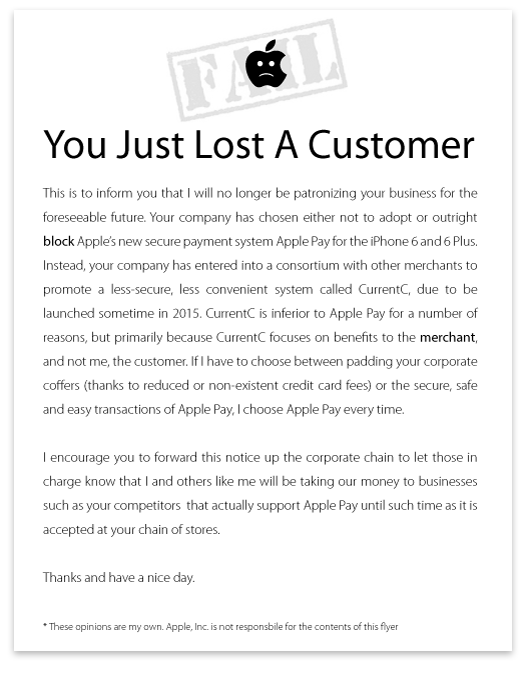 Download the PDF version. If you want, sign your name at the bottom and then see they get into the hands of businesses in your area that insist on doing what's better for them, instead of what's best for the consumer.
You can also contact CVS and Rite Aid electronically and tell them that they need to support Apple Pay or risk alienating millions of iPhone users. The more our voices are heard, the harder it will be for them to ignore us.